Urgent Interventions
Belarus: Viasna members in arbitrary detention face new trumped-up charges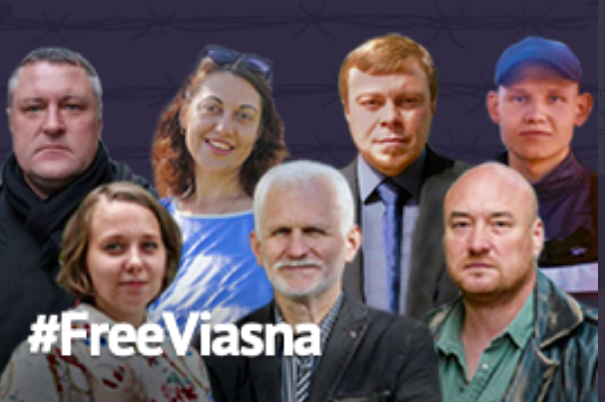 URGENT APPEAL - THE OBSERVATORY
New information
BLR 007 / 0721 / OBS 080.3
Search and seizure /
Arbitrary detention /
Judicial harassment /
At risk of torture and ill-treatment
Belarus
October 5, 2022
The Observatory for the Protection of Human Rights Defenders, a partnership of the World Organisation Against Torture (OMCT) and FIDH, has received new information and requests your urgent intervention in the following situation in Belarus.
New information:
The Observatory has been informed about new charges against the leadership of the Human Rights Center Viasna (Viasna). Ales Bialiatski, its Chairman; Valiantsin Stefanovich, Deputy Head of Viasna and Vice-President of FIDH and Uladzimir Labkovich, Viasna's lawyer, have been arbitrarily detained since July 14, 2021 and face 12 years in prison under the new charges. Viasna is one of the leading Belarusian human rights organisations and a recipient, along with its founder Ales Bialiatski, of numerous prestigious awards for its adamant stand for human rights and democracy including the Right Livelihood Award (2020), and "Justice for Democracy Advocates" Albie Award (2022).


On September 28, 2022, the Main Directorate for the Investigation of Organised Crime and Corruption of Belarus (GUBOPiK) dropped the charge of "tax evasion" against Messrs Bialiatski, Stefanovich and Labkovich and subsequently charged them with "smuggling" and "financing group actions that disrupted public order" (Part 4 of Article 228, and Part 2 of Article 342 of the Criminal Code of Belarus, respectively). The three are accused of alleged "illegal movement of cash across the customs border of the Eurasian Economic Union in large amounts by an organised group" in relation to the same case for which they had been charged with "tax evasion". The punishment under the new charges is harsher and the defenders now face up to 12 years in prison. At the time of publication of this Urgent Appeal, they remained arbitrarily detained in a pretrial detention centre in Minsk. Mr. Bialiatski was being held in a semi-basement floor with poor access to light.
The Observatory recalls that Ales Bialiatski, Valiantsin Stefanovich and Uladzimir Labkovich were arbitrarily detained by officers of the Financial Investigations Department of Belarus on July 14, 2021. Since that date they remained detained on charges of "tax evasion" (Part 2 of Art. 243 of the Belarus Criminal Code) which carries a maximum sentence of seven years. The investigation into their case has been ongoing for over a year, which is contrary to Belarusian law and international standards. The three human rights are kept in appalling detention conditions, their family and lawyers have been systematically denied access to them, and all post communications have been harshly censored by the authorities.
The Observatory considers the lengthy investigations and the new fabricated charges to be an intentional tactic by Belarusian authorities to keep the three human rights defenders in inhumane conditions to fabricate evidence and to coerce them into confession.
The Observatory further recalls that five other members of Viasna remain behind bars, including Marfa Rabkova and Andrei Chapyuk, who were sentenced to 15 and six years of imprisonment, respectively, on September 7, 2022; Leanid Sudalenka and Nasta Loika, who was sentenced to 15 additional days of administrative detention on September 22, 2022.
The reprisals against Viasna and its members are part of a broader crackdown on civil society in Belarus. In 2021 alone, the authorities shut down more than 275 human rights and other independent organisations, leaving not one legally operating human rights NGO in the country. In addition, legislative amendments to the Criminal Code adopted in December 2021 re-introduced criminal liability for "acting on behalf of unregistered or liquidated organisations". The liquidation of all independent human rights organisations by the authorities has therefore led to a de facto criminalisation of human rights work. The rights to freedom of expression, association and peaceful assembly, enshrined in international human rights instruments, including in the International Covenant on Civil and Political Rights, ratified by Belarus, have been severely and continuously violated by the authorities in recent years, which has had a chilling effect on civil society in the country.
Viasna has long been at the forefront of the Belarusian human rights movement being notably famous for maintaining a list of political prisoners in Belarus, which as of October 4, 2022 counted 1333 persons.
The Observatory strongly condemns the new trumped-up charges against Ales Bialiatski, Valiantsin Stefanovich and Uladzimir Labkovich as well as their ongoing arbitrary detention, and expresses grave concern over the high risk of torture and ill-treatment they face while in custody.
The Observatory urges the authorities to Belarus to immediately and unconditionally release them and Marfa Rabkova, Andrey Chapiuk, Nasta Loika, Leanid Sudalenka and Tatsiana Lasitsa, and to put an end to all acts of harassment against them, including at the judicial level.
Actions requested:
Please write to the authorities of Belarus to urge them to:
Guarantee in all circumstances the physical integrity and psychological well-being of all human rights defenders and journalists in Belarus, and respect and protect their right to be free from torture and other ill-treatment ;
Immediately and unconditionally release Ales Bialiatski, Valiantsin Stefanovich, Uladzimir Labkovich, Leanid Sudalenka, Marfa Rabkova, Andrey Chapiuk, Nasta Loika and all other detained human rights defenders, as their detention is arbitrary and seems to be merely aimed at punishing them for their legitimate human rights activities;
Put an end to all acts of harassment - including at the judicial level - against the above-mentioned human rights defenders, and ensure in all circumstances that they are able to carry out their legitimate activities without any hindrance and fear of reprisals;
Guarantee in all circumstances the right to freedom of association in the country, as enshrined in international human rights law and particularly in Article 22 of the International Covenant on Civil and Political Rights.
Addresses:
Mr. Aliaksandr Lukashenka, President of Belarus, Email: contact@president.gov.by;
Mr. Andrei Shved, General Prosecutor of Belarus, Email: info@prokuratura.gov.by;
Mr Dmitry Gora, Chairman of the Investigative Committee of the Republic of Belarus, Email: sk@sk.gov.by;
Mr. Oleg Slizhevsky, Minister of Justice of Belarus, Email: kanc@minjust.by;
Mr. Vasily Gerasimov, Acting Chairman of the State Control Committee of Belarus, Email: kgk@mail.belpak.by;
Mr. Ivan Kubrakov, minister of Internal Affairs of Belarus, Email: pismo_mvd@mia.by;
Mr. Yury Ambrazevich, Permanent Mission of Belarus to the United Nations in Geneva, Switzerland, Email: mission.belarus@ties.itu.int;
H.E. Mr. Aliaksandr Mikhnevich, Embassy of Belarus in Brussels, Email: belgium@mfa.gov.by
Please also write to the diplomatic representations of Belarus in your respective countries.
***
Geneva-Paris, October 4, 2022
Kindly inform us of any action undertaken quoting the code of this appeal in your reply.
The Observatory for the Protection of Human Rights Defenders (the Observatory) was created in 1997 by FIDH and the World Organisation Against Torture (OMCT). The objective of this programme is to prevent or remedy situations of repression against human rights defenders. FIDH and OMCT and are both members of ProtectDefenders.eu, the European Union Human Rights Defenders Mechanism implemented by international civil society.
To contact the Observatory, call the emergency line:
E-mail: Appeals@fidh-omct.org
Tel FIDH: + 33 (0) 1 43 55 25 18
Tel OMCT: + 41 22 809 49 39