Brazil : « The socio-educational unit where they sent my teenage son was worse than a jail »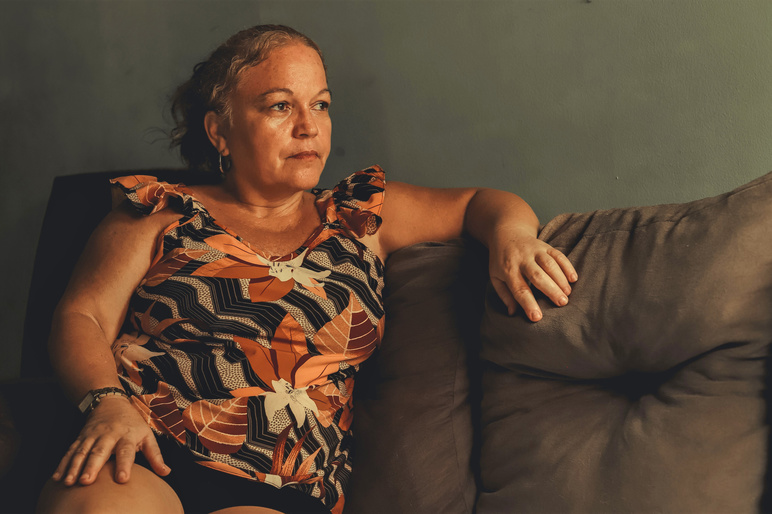 Simone Cristina, 47 years old, in her house in Recife
17-year-old Leonardo dreamed of becoming a judge, but life put him on the opposite side of the courtroom, in the dock. In Brazil, teenagers dealing with drugs are sent to correctional homes that are more like jails than educational facilities. Leonardo ended up in a place known as « the devil's house », where he left his physical and psychological health. His mother, Simone, is 47 and works as a cleaner in Recife, Brazil. Despite her limited financial means and an uncooperative justice system, she never lost hope of getting her son out.
How did it all start?
Five years ago, I made a phone call that would change my son's life forever. I told the police that Leonardo was involved in drug trafficking. I wanted him to understand his mistake and to change. I trusted that the State could help me with that. Leonardo is now 22 years old, and he has changed: he is traumatised. He can't sleep at night; he has crises in which he breaks everything around him. He is so psychologically damaged that he will never live a normal life.
What did the police do at the time?
Leonardo was a minor, so the police sent him to a « socio-educational assistance unit ». A social worker told me that my son would study there and that a lot of opportunities would open for him. Leonardo was in his first year of high school, and I thought: « thank God ». I was relieved and hopeful for his future.
When did you realise that the reality was different from what the social worker had promised?
First, my son told me they didn't have any classes at the correctional home. I was surprised. From what he described, this « socio-educational unit » sounded more like a jail. And then, one day, I received a phone call from the hospital. Leonardo was lying on a bed, between life and death. Other kids from the unit had beaten him with iron bars. He had severe fractures, and the doctor had to remove his spleen. I realised this unit was even worse than a jail. My son's life was in danger in this place. I went straight to the judge who had sent him there and asked for Leonardo to be returned home.
How did the justice system support you?
They did not. Because of his operation, my son's immunity was very low; he needed to remain in a clean environment. But the judge decided to send him back to the socio-educational unit anyway. I was so angry.
This was when you contacted the human rights organisation GAJOP?
Yes, and they managed to transfer him to a slightly better facility. The unit my son was in at the time was later closed off. But the damage was done. Leonardo was scared of being murdered if he remained in a home. He was still on bed rest when he decided to run away. He jumped over the wall and hid inside a grave in a close-by cemetery. This is where the staff from the correctional facility found him. As a punishment, they locked him up in a cell full of bugs and faeces. It was the most disgusting and unhealthy place I have ever seen.
Life in this new facility wasn't much better then?
No, it wasn't. Once, a rebellion broke out there, and my son was beaten in the head with stones. I learnt about it on television. I was pregnant at the time, but I was so shocked when I saw Leonardo all sewn up that I lost my baby.
Where is Leonardo now?
Now, my son lives in a psychiatric hospital. He is very unstable and goes through crises in which he breaks everything around him. The doctors say he will never be able to take part in society, have a job or a social life.
How do you feel about what happened to your son?
There are days when I wake up with Leonardo's story in my head, and I spend the whole day crying. It's like playing a tragic movie in my head, but this movie is our life.