Reports
Cambodian Civil Society Faces Intensified Restrictions and Rights Abuses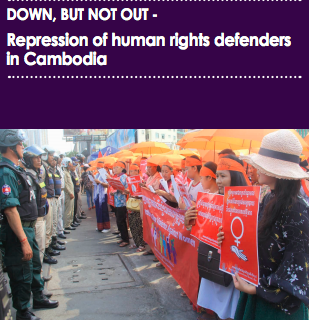 Paris-Geneva, July 9, 2020 - In a new report released today, the Observatory for the Protection of Human Rights Defenders (FIDH-OMCT) documents the severe persecution faced by human rights defenders in Cambodia and the deepening crackdown on civil society and independent media.

The report, titled "DOWN, BUT NOT OUT - Repression of human rights defenders in Cambodia", shows how human rights defenders including land and environmental rights defenders, labour leaders, women's rights defenders, cyber activists and journalists have all faced increased violence, intimidation, detention and judicial harassment from the state, while civic space has continued to erode. Scores of human rights-related events, including peaceful demonstrations and human rights workshops, have been monitored and interfered with by government authorities. The report also documents how the Cambodian government has used repressive laws and subservient courts to harass and attempt to silence human rights defenders.

"In Cambodia, individuals and communities have been regularly attacked and criminalised for defending human rights. Cambodian authorities must reverse this unacceptable practice, allow civil society to operate safely, and recognise the legitimacy of defenders - the very people who stand up for human rights, development, and social justice for all", said FIDH Secretary-General Adilur Rahman Khan.

Over the past few years, human rights defenders have been linked by the Cambodian government to a fictitious "colour revolution", allegedly led by the former political opposition. Civil society space has further shrunk since the government initiated a political crackdown ahead of the July 2018 general election, and since then human rights defenders have operated in a repressive environment that is unprecedented in Cambodia's recent history.

Since March 2020, the Cambodian government has used the coronavirus (COVID-19) pandemic as an opportunity to further crack down on dissent. The Law on the State of Emergency, promulgated on April 29, if implemented, will lead to further curtailment of civil rights and freedoms, such as the rights to freedom of movement, freedom of expression, freedom of association, and peaceful assembly.

"Cambodia has become a bleak place for civil society - from labour leaders to land rights and cyber activists. The government of Cambodia must stop harassing human rights defenders and adopt urgent measures to protect them and ensure they can continue to carry out their vital work", said OMCT Secretary General Gerald Staberock.

Context
The present report is based on a June 2019 fact-finding mission by the Observatory for the Protection of Human Rights Defenders (a FIDH-OMCT partnership) in response to alerts from civil society. The mission met with a wide range of stakeholders to examine and assess the main obstacles to civil society activities in the country, and witnessed first-hand the erosion of civil society space following Cambodia's 2018 general election. The report also includes recent cases of harassment against civil society activists, and lays out numerous recommendations to a wide variety of actors, including the government of Cambodia, the European Union, the United Nations Special Procedures, donor countries, and other stakeholders, to address the situation of human rights defenders in the country.
Press contacts:
FIDH: Samuel Hanryon (English, French), +33 6 72 28 42 94 / Email: shanryon@fidh.org (Paris)
OMCT: Ms. Iolanda Jaquemet (English, French), +41 79 539 41 06 / Email: ij@omct.org (Geneva)
The Observatory for the Protection of Human Rights Defenders (the Observatory) was created in 1997 by FIDH and the World Organisation Against Torture (OMCT). The objective of this programme is to intervene to prevent or remedy situations of repression against human rights defenders. FIDH and OMCT are both members of ProtectDefenders.eu, the European Union Human Rights Defenders Mechanism implemented by international civil society.