Reports
Colombia: Torture remains systematic and impunity is alarming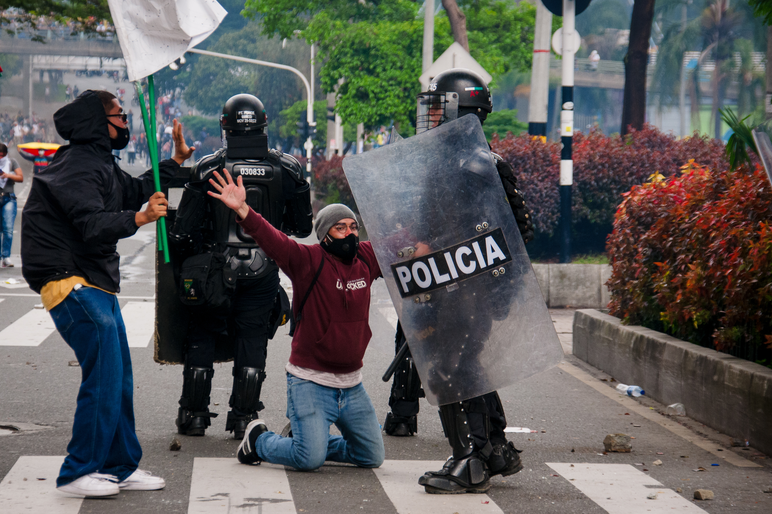 March as part of the national strike against the tax reform proposed by President Ivan Duque. Medellin Colombia. 28 April 2021 © Shutterstock
In Colombia, vulnerable populations are often the victims of torture or cruel and inhumane treatment. Children and teenagers, persons with disabilities, detainees, human rights defenders, the elderly, women, and the LGBTIQ+ population are the main targets of this systemic violence. Torture is used by both illegal armed actors and the state to constrain, silence, and stigmatize people as they try to exercise their rights.
The invisibility of acts of torture persists when they are committed concomitantly with other related crimes and violations. The levels of impunity and lack of reparations to victims continue to be alarming, while underreporting and a lack of state tools for monitoring this crime are of particular concern.
The aforementioned, are some of the conclusions of the alternative report presented by the Colombian Coalition Against Torture (CCCT) in relation to the sixth periodic report of the Colombian State for the 76th session of the Committee against Torture of the United Nations System, to be held on April 18 and 19, 2023.
During the 2015 to 2022 period, Colombia continued to fail to comply with its international obligations under the Convention against Torture and Other Cruel, Inhuman, and Degrading Treatment or Punishment, as well as not complying with recommendations made by the CAT in its latest review.
During this period there were three circumstances that made the fight against torture in the country more precarious. First, confinement caused by the COVID-19 pandemic created new scenarios for the commission of the crime of torture or cruel and inhumane treatment. The pandemic also intensified the commission of this crime in previously identified scenarios, such as facilities where persons deprived of liberty are held.
Second, acts of torture and cruel and inhumane treatment were committed as a mechanism to prevent the exercising of the right to protest during the social demonstrations that took place in the country and that were disproportionately repressed by state agents.
Third, non-compliance with the Final Peace Agreement and territorial disputes between different actors in the armed conflict have led to an increase in human rights violations. This situation has meant that the patterns of torture identified in the previous report continue to occur, especially against women and girls who are victims of sexual violence.
Read the report submitted by the Colombian Coalition Against Torture