Statements
Iran: Narges Mohammadi sentenced to 11 years and nine months in prison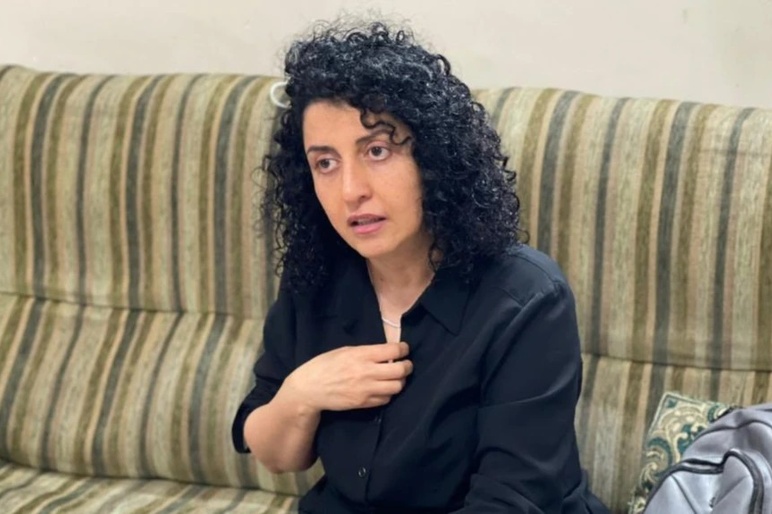 JOINT STATEMENT - THE OBSERVATORY / LDDHI


Paris-Geneva, October 14, 2022 – After already being sentenced to several years in prison on various charges over the past year and a half, on October 9, 2022, prominent human rights defender Narges Mohammadi was sentenced to an additional 15 months in prison, bringing her total sentence to 11 years and nine months. The Observatory (FIDH-OMCT) and the League for the Defence of Human Rights in Iran (LDDHI) strongly condemn this new sentence and the relentless judicial harassment against Ms. Mohammadi, and reiterate their call for her immediate and unconditional release.
On October 9, 2022, Narges Mohammadi was informed of a new 15-month prison sentence by Branch 26 of Tehran's Islamic Revolution Court on charge of "propaganda against the system" (Article 500 of the Islamic Penal Code) for expressing her support for the right of the people to demonstrate, in relation to the ongoing protests in Iran. Ms. Mohammadi learned about this new sentence while being arbitrarily detained in Evin prison, Teheran. The court sentenced Ms. Mohammadi in absentia, as she refused to attend the court hearing. The sentence includes several additional sanctions to be applied upon her release, including: monthly reporting to the police for a two-year period; bans on travelling abroad and on membership of political parties and groups for two years; and cleaning the urban areas in one of the cities from garbage four hours a day for three months. This sentence can be appealed. However, in the past, Ms Mohammadi has refused to appeal other sentences imposed against her, knowing that they would be upheld, and in order not to legitimise the court's decisions.
This is the third sentence that had been imposed against Ms Mohammadi over the past year and a half, bringing her total sentence to 11 years and nine months in prison, along with several dozen lashes and all sorts of bans. In May 2021, Ms. Mohammadi was sentenced to 30 months in prison for "spreading propaganda against the system" (Article 500 of the Islamic Penal Code). In January 2022, she received a prison sentence of eight years and two months for "assembly and collusion to act against national security" (Article 610 of the Islamic Penal Code) and "acting against national security and disrupting public order" (presumably Article 508 of the Islamic Penal Code).
Ms Mohammadi is facing another court case for "civil disobedience" brought against her by the intelligence agencies and the Qarchak prison prosecutor before the Criminal Court of Shahr-e Rey Branch 101 for her describing as civil disobedience her refusal to "recognise the illegal and unjust rulings of courts affiliated to intelligence agencies" as she put it.
Narges Mohammadi is a journalist and spokesperson for the Iranian human rights NGO Defenders of Human Rights Centre (DHRC). She has campaigned for the abolition of death penalty in Iran, and was awarded the Per Anger Prize by the Swedish government for her human rights work in 2011.
The Observatory and LDDHI recall that Narges Mohammadi was violently arrested on November 16, 2021, while she was taking part in a memorial service for a victim of the November 2019 killings of anti-government protesters. On the same day, she was sent to Evin prison, where she was held in solitary confinement, to serve her May 2021 sentence. On January 19, 2022, Ms Mohammadi was transferred from Tehran's Evin prison to Qarchak prison, south of Tehran. In July 2022, together with all female political prisoners, Ms Mohammadi was transferred back to Evin prison.
Ms Mohammadi had previously been arbitrarily detained in Zanjan prison, Zanjan Province, for more than five years, during which her health deteriorated. During this period, she was subjected to sexual harassment and physical assault. She was released on October 8, 2020.
The Observatory and LDDHI strongly condemn the new conviction and prison sentence of Narges Mohammadi and denounce the incessant judicial harassment against her, which is only aimed at silencing her and punishing her for her legitimate human rights activities. The Observatory and LDDHI also condemn the ongoing arbitrary detention of Narges Mohammadi and express their utmost concern over the risks of assault and deterioration of her health in prison, given the Iranian authorities' record of denying medical care to her and all other human rights defenders.
The Observatory and LDDHI call on the Iranian authorities to guarantee in all circumstances the physical integrity and psychological well-being of Narges Mohammadi, to drop all charges against her, and to immediately and unconditionally release her, as well as all other human rights defenders arbitrarily detained in the country.
****
The Observatory for the Protection of Human Rights Defenders (the Observatory) was created in 1997 by the International Federation for Human Rights (FIDH) and the World Organisation Against Torture (OMCT). The objective of this programme is to prevent or remedy situations of repression against human rights defenders. FIDH and OMCT are both members of ProtectDefenders.eu, the European Union Human Rights Defenders Mechanism implemented by international civil society.
The League for the Defence of Human Rights in Iran (LDDHI) was founded in Paris in March 1983, following the forced closure of the "Iranian Association for the Defence of Human Rights and Liberties" (established in 1977) in 1981, and the departure of its leaders into exile. Since its establishment, LDDHI has consistently reported and campaigned against human rights violations in Iran, concentrating on the abolition of the death penalty in Iran, women's rights, freedom of political prisoners, rights of religious and ethnic minorities, freedoms of expression, assembly and association among others. LDDHI has been a member of FIDH since 1986.