Statements
Libya: Entire families are forcefully evicted from their homes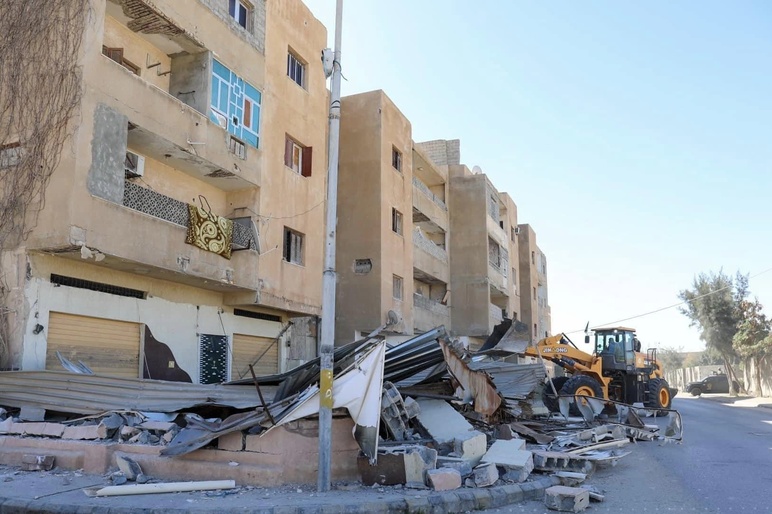 More than a thousand civilians residing in residential buildings in Al-Qushi in Libya are being forcefully evicted from their homes as we write. The Misrata Joint Forces, a state-financed militia reporting directly to the Prime Minister is carrying out these evictions as part of a campaign of house demolitions. Similar operations have also been conducted by the Libyan Arab Armed Forces in the east of Libya.
Forced evictions and demolition of residential buildings
On the 8th and 9th of March 2023, residential buildings in the neighbourhood were demolished. The Misrata Joint Forces notified the residents via megaphones, demanding the immediate evacuation of all buildings in Al-Qushi based on an official order issued by the Libyan Attorney General's Office in Tripoli. The Misrata Joint Forces used coercive tactics and verbal abuse to intimidate the civilian population into immediately evacuating their homes.
Sources confirmed that because of the demolition of those buildings, 16 families were evicted and subjected to insults and threats by the Misrata Joint Forces. Residents fled with a few personal belongings , leaving behind many possessions because of the Joint Forces' threats. The planned demolition will result in the eviction of 447 families residing in a total of 68 buildings Over 1,000 civilians will be affected by the operation.
The OMCT and the LAN monitored vigils organized by affected residents in front of the municipality building in the city of Misrata. On 18 March 2023, the evicted families met with the Attorney General, who offered them a financial compensation of 100,000 Libyan dinars (21,000 USD) and promised to convince the Misrata Joint Forces to delay the demolition until after Ramadan. However, the Libyan government has yet to issue an official announcement about the timing and manner of payment.
Widespread demolitions under the guise of "clean-up" campaigns
To satisfy influential armed groups, the Libyan authorities are carrying out demolitions in the East and West of the country, that they call "neighbourhoods clean-up". These operations are presented as "reconstruction" of the country and designed to polish the image of the two Governments ahead of anticipated elections. However, they pose a threat to civilian life, social stability, and the rights of vulnerable groups, especially as, so far, the evicted families have not received any compensation or alternative solution.
The evictions and demolition of houses violate the right to a safe and secure residence; the right to privacy, family, and home; the right to adequate standard of living, including adequate food and housing. In the context of an armed conflict, forced evictions may amount to war crimes under international law if systematically committed and potentially resulting in the large-scale displacement of civilians.
More info and our recommandations in our full statement in English and Arabic