Statements
Selçuk Kozagaçli, a voice for justice, muzzled
➡
Learn more about
our
#FacesOfHope campaign
​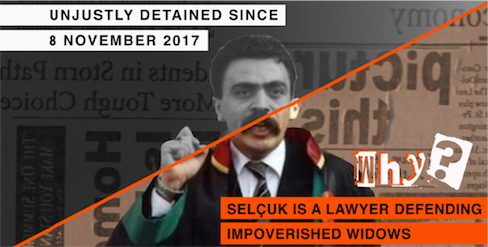 On 13 May 2014, 301 miners were burned alive or suffocated as carbon monoxide engulfed a pit at the Soma mine, in western Turkey. The "Soma mine disaster", as it became known in headlines around the world, was the worst industrial accident in the country's history. The despair of a bereaved community, then the explosion of rage throughout Turkey shook the government: two weeks before the tragedy, the opposition parties had warned about an impending disaster at Soma, to no avail.
This is the sort of lawsuit Selçuk Kozağaçlı was working on, trying to obtain justice for the most vulnerable who had been abused by authorities and private companies alike. The 48-year old lawyer and his colleagues at the People's Law Office were specializing in human rights cases. An activity that was not to the liking of the Turkish authorities. On 22 November 2016, the government used the state of emergency to close down the Progressive Lawyers Association (ÇHD), a group focusing on the right to life and the prevention of all types of attack on fundamental rights and human dignity, which Selçuk was president of.
One year later, on 8 November 2017, the police arrested Selçuk as he was on his way to a meeting with a number of Bar Association presidents and brought him to Istanbul Security Directorate's Anti-Terror Branch. After five days, he was charged with "membership of a terrorist organization" and subsequently transferred to the 9th Block of Istanbul Silivri Prison, a special unit dedicated to "terrorists", where he was held in solitary confinement for a prolonged period.
In September 2018, the Istanbul 37th Heavy Penal Court ruled for his release from pre-trial detention, together with 16 other lawyers. The judge was promptly replaced, and the lawyers were rearrested just one day after their release.
On 20 March 2019, the İstanbul 37th Heavy Penal Court in Silivri Courthouse convicted him, together with 17 other human rights lawyers, all members of the ÇHD and the People's Law Bureau (HHB), under trumped up terrorism charges. The prison terms ranged between over three and 18 years. Selçuk was sentenced to 11 years and three months for alleged "membership of a terrorist organisation". Two months earlier, he and four other lawyers had started a hunger strike to protest against the irregularities in the court proceedings and the lack of judicial independence. They only put an end to it upon hearing the verdicts.
Shortly after his 2017 arrest, Selçuk had said: "I've always felt myself as a child of this people, I've felt myself as someone owing to them. We are happy that they look after us in return." Clearly the judges who sentenced 18 peaceful human rights lawyers to a total of 156 years in detention did not share the sentiment.
The repression against human rights defenders in Turkey has taken an endemic character since the attempted coup in 2016. Defenders are criminalized in a country where the judiciary is widely used to crack down on any form of dissent and specifically human rights activists, through criminal proceedings that blatantly violate the right to a fair trial.
Join our call to release Selçuk Kozağaçlı!