Urgent Interventions
Intimidation and reprisals against a human rights defender and two Greek Roma families
​
URGENT APPEAL
GREECE – CASE GRE 290720
HUMAN RIGHTS DEFENDERS
Acts of intimidation /Reprisals
The International Secretariat of the WorldOrganisation Against Torture (OMCT) requests your URGENT intervention in thefollowing situation in Greece.
Brief Description ofthe Situation:
The InternationalSecretariat of the OMCT has been informed by the Greek Helsinki Monitor (GHM)about the acts of intimidation against Mr. Panayote Dimitras, GHMSpokesperson and a member of OMCT's General Assembly, as well as the reprisals against two Greek Romafamilies he was representing, for providing information on individual cases ofhuman rights violations to the United Nations Human Rights Committee(UN-HRCttee).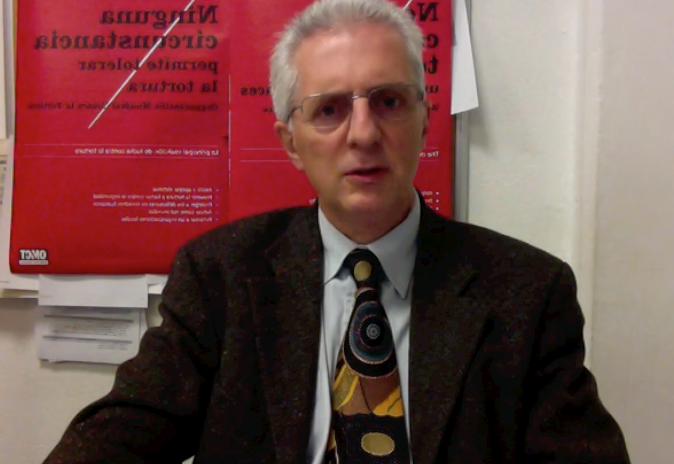 According to the information received, on July 5,2020, two Greek Roma families, including Mr. Christos Theodoropoulos, Ms. VasilikiKarahaliou and one of their sons, and Mr. Evangelos Theodoropoulos, Ms. GeorgiaSouta and two of their sons, living in a Roma settlement in the Nea Zoeneighbourhood of the Municipality of Aspropyrgos and legally represented by Mr.Panayote Dimitras, sent a request for urgent interim measures to the UN-HRCtteein order to temporarily stop the pending forced eviction through demolition ofthe lodgings of both families, which was attempted without success on July 3,2020 and subsequently announced for July 7, 2020. Both families live in poorhousing conditions lacking adequate standards of living and are waiting forresettlement in adequate housing.
On July 6, 2020, the UN-HRCttee granted the injunctionrequested by the two families and called on the Greek authorities to refrainfrom forcibly evicting the members of both families while the communication wasunder consideration by the UN-HRCttee unless they were offered an alternativeaccommodation.
No further attempts to forcibly evict the familieshave taken place. Nonetheless, on July 8, 2020, Hellenic Police officers raidedwithout a warrant the homes of the two Greek Roma families represented by Mr.Panayote Dimitras and of four of their relatives and arrested them for"stealing electricity". The OMCT expresses its concern for this interventionwhich seems to be a form of reprisal against the two families because of theirengagement with the United Nations mechanisms.
On the same day at around 10:30 am, while the arrestedindividuals were at the police station, Mr. Panayote Dimitrasreceived a call from an unknown person calling from the settlement whorepeatedly refused to identify himself. This person accused Mr. PanayoteDimitras of being responsible of the arrests described above and of harming theGreek Roma community of the Nea Zoe settlement with the legal actions taken bythe GHM, in what appeared as an attempt to intimidate Mr. Panayote Dimitras anddeter other Nea Zoe dwellers from taking further legal actions in defence oftheir right to adequate housing.
In the afternoon of July 8, 2020, the arrestedindividuals were released without charges.
On July 24, 2020, following an additionalcommunication sent by Mr. Panayote Dimitras to inform about the above-mentionedraids and acts of reprisal, the UN-HRCttee extended the interim measures toeleven Greek Roma individuals at risk of eviction[1]and reiterated its request to Greece to provide information about the situationof the Greek Roma families from the Nea Zoe settlement. As of issuing thisUrgent Appeal, no observations had been sent by Greece to the UN-HRCttee.
The OMCT expresses serious concerns over the acts ofintimidation carried out by an unidentified person against Mr. PanayoteDimitras as well as over what seems to be reprisals by the Greek authoritiesagainst the two families for submitting a complaint to the UN-HRCttee regardingan alleged violation of the two Greek Roma families' right to adequate housing.
The OMCT recalls that Greece is under a positiveobligation to protect from reprisals individuals and groups collaborating withUN Treaty Bodies and urges the Greek authorities to carry out a prompt,transparent, impartial, effective and thorough investigation into theabove-mentioned acts in order to identify those responsible and bring theperpetrator(s) to justice before an independent and impartial tribunal thatwill judge them according to domestic and international standards for a fairtrial.
Actions requested:
Please write to the authorities of Greece to urge themto:
i. Guarantee in all circumstance the psychologicalwell-being and physical integrity of Mr. Panayote Dimitras;
ii. Carry out an prompt, impartial, transparent, effectiveand thorough investigation into the above-mentioned events in order to identifythose responsible and bring the perpetrator(s) to justice before andindependent and impartial tribunal, that will judge them according to domesticand international standards for a fair trial;
iii. Put an end to all act of intimidation and reprisalsagainst Mr. Panayote Dimitras as well as the reprisals against the twoTheodoropoulos families;
iv. Ensure in all circumstances that human rightsdefenders and alleged victims of human rights violations are able to cooperatewith UN Treaty Bodies without hindrance and fear of reprisals;
v. Conform in any circumstances with the provisions ofthe Declaration on Human Rights Defenders, adopted on December 9, 1998 by theUnited Nations General Assembly, in particular its Articles 1, 2, 5 (c) and12.2.
vi. Ensure in all circumstances respect for humanrights and fundamental freedoms in accordance with the Greek Constitution andinternational human rights instruments ratified by Greece.
Addresses:
· Mr. Kyriakos Mitsotakis, Prime Minister of Greece,Email: mail@primeminister.gr
· Mr. Konstantinos Tsiaras, Minister of Justice, Email: grammateia@justice.gov.gr
· Mr. Panos Alexandis, General Secretary for Justice andHuman Rights, Email: ggdad@justice.gov.gr
· Mr. Nikolaos Meletiou, Mayor of Aspropyrgos, Email: grafeiodimarxou@aspropyrgos.gr
· Permanent Representative of Greece, Ms Anna Korka,Permanent Mission of Greece to the United Nations in Geneva, Switzerland, Fax:+41 22 732 21 50; Email: grdel.gva@mfa.gr
· Permanent Representative of Greece, H.E. AndreasPapastavrou, Permanent Representation to the European Union (EU), Fax: +32 25515651, 5127912
Email: mea.bruxelles@rp-greece.be
***
Geneva-Brussels, 29 July 2020
The OMCT works with around 200 memberorganisations which constitute its SOS-Torture Network, to end torture, fightimpunity and protect human rights defenders worldwide. Together, we make up thelargest global group actively standing up to torture. Helping localvoices be heard, we support our vital partners in the field and provide directassistance to victims. OMCT's international secretariat is based in Geneva,with offices in Brussels and Tunis.

[1] Thebeneficiaries of the interim measures include two families whose houses wereraided, namely Mr. Andreas Theodoropoulos, Ms. Despoina Karahaliou, Ms. PanayitsaKarahaliou and Mr. Charalambos Theodoropoulos, Ms. Maria-Georgie Dionyssopoulouand Ms. Assimoula Dionyssopoulou, as well as Ms. Nicoletta Dionyssopoulou, Mr.Pavlos Panayotopoulos, Ms. Evangelia Theodoropoulou, Ms. Anthi Theodoropoulouand Mr. Andres Theodoropoulos.