Individual Cases
Important victory at the European Court of Human Rights in a case involving Russian troops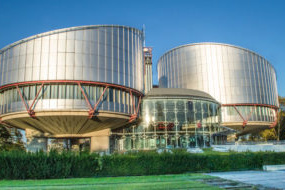 Geneva-Brussels-Chisinau, July 9, 2021 – On June 29, 2021, the European Court of Human Rights (ECtHR) found that two members of Moldovan human rights organisation Promo LEX had been the victims of unlawful detention by Russian soldiers in the Transnistria region of Moldova. The case had been brought to court by the applicants themselves with assistance from the World Organisation Against Torture (OMCT). Promo LEX is a member of OMCT's global SOS-Torture Network.
On July 19, 2005 at around 8.10 p.m., two members of Promo LEX Association, Ion Manole and Alexandru Postica, were returning from a work visit when they were detained at a Russian-manned peacekeeping checkpoint located on the left bank of the Nistru river, in Cosnita village. The soldiers alleged that Mr. Manole, Mr. Postica and their colleague had taken a picture of a nearby advertising board with the inscription "Farewell - Dubasari district". The Russian officer heading the peacekeeping group ordered the destruction of the picture.
When the two human rights defenders asked for the detention grounds to be explained and proper documentation to be prepared, the Russian officer became very aggressive, threatening the detainees and asking his superiors to come to the site. He used special equipment to block the vehicle of the Promo LEX team, which resulted in a huge traffic jam.
Despite various representatives of law enforcement bodies and members of several organisations coming to the site, the Russian military staff continued their aggressive behaviour and refused to free the vehicle of the human rights defenders. Then a Russian soldier suddenly shot two bursts from his machine gun. This serious incident, which could have resulted in casualties, was resolved thanks to the professional intervention of a Moldovan road police officer from Dubasari district.
It was only after midnight that the human rights defenders were allowed to leave. The peacemakers neither prepared a protocol of the incident, not justified their behaviour by any lawful decision. The subsequent requests filed by the applicants with the offices of the Prosecutors General of the Russian Federation and of Moldova failed to produce any outcomes.
The ECtHR Judgment of June 29, 2021 found violations of Article 5 § 1 and Article 5 § 4 of the European Convention on Human Rights, due to the lack of any lawful grounds for the detention of the applicants and the lack of any remedies to appeal against this arbitrary detention. The Court ruled that the Russian Federation shall pay EUR 3,000 to each applicant in respect of non-pecuniary damage and EUR 1,500 in respect of costs and expenses. The Judgment is important from the perspective of the responsibility of peacekeeping troops for human rights violations and the protection of human rights defenders.
The full text of the judgment can be found here.

For more information, please contact :
OMCT
Iolanda Jaquemet, Director of Communications, ij@omct.org +41 79 539 41 06
Promo LEX
Andrei Dudnic, Press Officer, andrei.dudnic@promolex.md +373 22 450024