Belarus : Many human rights defenders have disappeared after police raid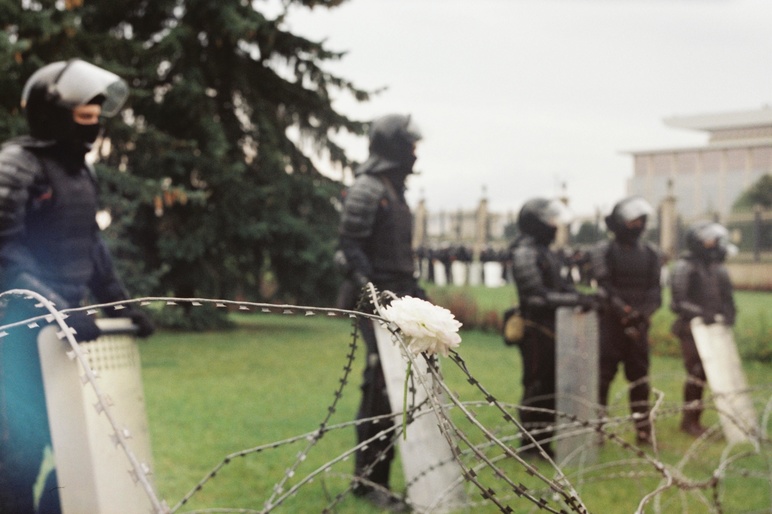 This morning (16/02/2021), the police, the KGB and officers of the GUBOPiK (Main Department for Combating Organized Crime and Corruption) came to at least 21 Belarus journalists and human rights defenders. Among them many Human Rights Defenders from our partner Viasna. They conducted searches. Since then we have lost contact with most of them.
The searches were conducted at the apartment of Andrei Poluda, Viasna's coordinator for the campaign "Human Rights Defenders against the Death Penalty in Belarus", at the offices of members of Viasna's Mahiliou branch Aliaksei Kolchyn and Barys Bukhel, at the house of the head of Viasna's Mazyr branch Uladzimir Tselepun and at the house of the head of Viasna's Svietlahorsk branch Alena Masliukova. Another search was initiated at the house of Natalya Satsunkevich, human rights activist at Viasna.
Viasna staff member Dmitri Solovyov has been detained. Viasna lawyer Pavel Sapelko is missing
Criminal cases might have been opened against them and they might be detained soon.
This morning, the press-secretary of the Belarusian Association of Journalists (BAJ) Barys Haretski wrote on his Facebook page that unknown people were banging on his door. Searches were also conducted at the house of BAJ chairman Andrei Bastunts and deputy chairman Aleh Ageyeu. BAJ management is reported to be detained. Barys Haretski is reportedly free, his equipment and private money have been confiscated. Parents and relatives of human rights defenders are being searched too.
The police also came to the house of a freelance journalist Larisa Shchiryakova from Homel. They demanded to open the doors of the house, reports Telegram-chat "Homel Spring". Another search is being conducted in the home of Homel journalist Anatol Gotovchyts. It is reported that investigators are conducting a search under Article 362 of the Criminal Code : murder of a police officer.