Mexico: "Migrant rights defenders are accused of human trafficking"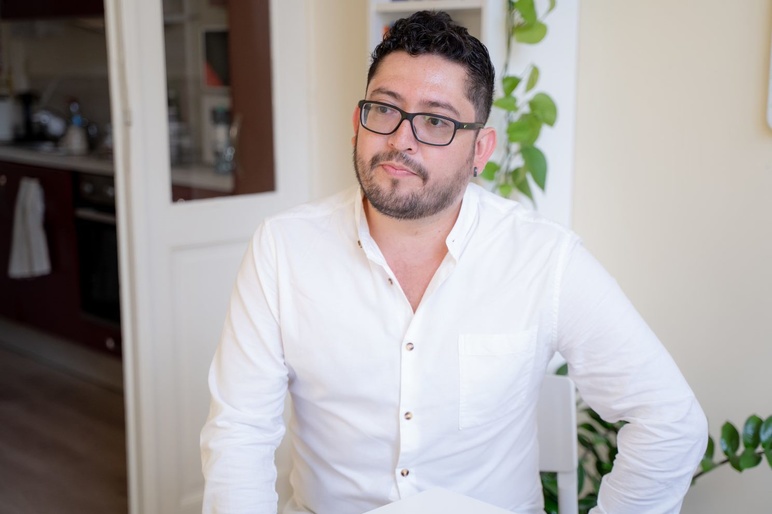 Josué Hildegardo Gómez Guzmán is a migrant rights defender at the Fray Matías Human Rights Center in Mexico. He tells us about his difficult work helping migrants in a country where his job can be considered a crime.
How did you become involved in defending migrant rights in Mexico?
It all started when my cousin disappeared on the dangerous migration road to the US. That's what got me interested in migration. I first volunteered in a migrant shelter in Oaxaca and then in a project to assist people seeking asylum.
What does a typical day look like for you?
On Tuesdays, Wednesdays and Thursdays, we visit detention centres, known as 'immigration stations'. We have a list of people we plan to visit, which we compose based on people who contact us and information we receive from other organisations.
Our role is to verify that people are detained at the stations, to provide them with information about their detention, regularisation and asylum processes, and finally, to help them make an application for one of these procedures should they wish to. If we detect any serious rights violations with regard to the detention conditions, we ask the detainees if they would like to file a complaint with the National Human Rights Commission.
What challenges and obstacles do you face in your work?
There is a complete lack of information regarding the asylum application procedure for those in detention. The national authorities are meant to provide this information, but they are rarely present at the immigration stations. So this task is left to civil society organisations. But we have limited capacity. From a total population of 960 people at immigration stations, we can only assist around 15-20 per visit.
We inform detainees that if they apply for asylum they should be released from detention within around 15 days, which is what is mandated by law. The problem is that authorities mislead migrants telling them that they can be kept in detention for up to five months in order to discourage them from applying for asylum. At this point, people generally decide not to continue with their protection claim because they are afraid of being detained for a prolonged period of time.
Another obstacle we face are the permits we need to access the detention centres. Those are often difficult to get... Our permit allows us to enter the station from 10 am to 2 pm every day. Upon entering, our staff is disproportionately searched, especially women. We often wait for a long time for station staff to bring us the people who are on our list, so there is very little time left to talk to them.
All this limits our work as defenders.
Alongside detention centres, you also work in public spaces and with migrant caravans. Does hostility from the authorities also affect this work?
Absolutely. Authorities criminalise migrant rights defenders by accusing us of human trafficking and try to physically prevent us from reaching the migrants. Staff members from partner organisations have been detained by the police on suspicion of trafficking.
More broadly, the general security situation in Mexico limits the geographical scope of our work and puts us at further risk. Due to militarized migration policies, migrants use clandestine spaces in order to avoid checkpoints, and our work to accompany them is therefore taking place in more hostile, dangerous and violent places.
Looking to the future, what support do you and other migrant rights defenders in Mexico need?
The State's National Mechanism to Protect Human Rights Defenders and Journalists is ineffective, and its budget has been repeatedly cut. It must be strengthened and improved, including preventive actions, investigation of incidents and a mechanism to ensure accountability for perpetrators.
We want militarised migration policies to be replaced with regularisation procedures and effective access to asylum. Attempting to contain or obstruct migrants just makes them transit through more clandestine areas, increasing the risks for them and for those of us who accompany them.