Morocco/Western Sahara
14.10.22
Mohamed Lamin Haddi, a Sahrawi journalist unjustly convicted by Morocco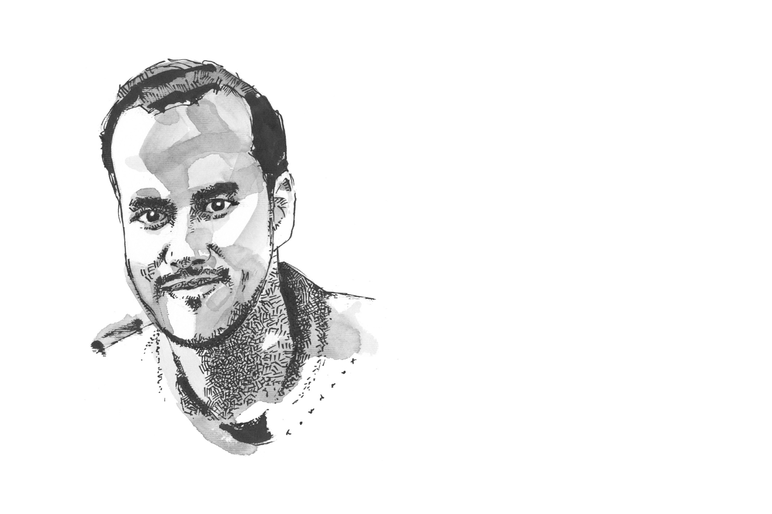 Mohamed Lamin Haddi has been locked up in Morocco since 2010. A journalist, he has been a fearless advocate for the right to self-determination for his people in Western Sahara. When he was brought to Tiflet 2 Prison east of Rabat, Mohamed was an energetic, healthy 20-something. Now he is changed. He does not see well out of one eye. He has pain around his neck and throat because he has been strung up. And he is weak from hunger strike – often the only way prisoners like Mohamed can protest their inhumane detention.
This is a human rights defender who has endured years of horrendous treatment at the hands of the Moroccan authorities: isolation, abuse, torture.
Western Sahara: fought-over territory
Western Sahara lies south of Morocco and shares borders with Algeria and Mauritania. It has a large reserve of phosphates and some of the richest fishing waters in the world. A desert region, Western Sahara used to be a Spanish colony. From 1973, the Sahrawi people and the Polisario Front waged a guerrilla war for independence against the colonialists. Spain departed in 1975. The power vacuum was quickly filled by Morocco, and the Spanish promise of a referendum to determine Western Sahara's future status never materialised.
When Mohamed was born in 1984, most of Western Sahara had already been illegally occupied by Morocco for nearly a decade, and thousands of Sahrawis had been driven into exile in neighbouring Algeria, where they still live in refugee camps. But Mohamed's family did not leave. He grew up in the Western Saharan city of El Aaiun and, from an early age, felt the injustice of occupation. His activism began as a student, and in his teens, he was expelled from school. Now identified with the Sahrawi opposition to Moroccan rule, his card was marked by the authorities – it was difficult for him to get employment. Mohamed worked sometimes as a taxi driver, and then he found the career that would put him in prison, sentenced to 25 years.
No place for journalists
Western Sahara, under Morocco's draconian rule, has been called a 'black hole' for information and journalism. Foreign reporters are regularly deported. But for local journalists like Mohamed, the stakes are much higher. Every day, they run huge risks in bringing the stories of Sahrawis to a wider audience.
Mohamed worked for the station that belongs to the Polisario Front's Western Saharan government-in-exile, RASD Radio. In El Aaiun's pervading climate of fear – surveillance and the arbitrary arrest of those who dared to challenge Moroccan rule – Mohamed held his nerve. He protected his contacts and delivered his radio reports.
Sometimes city life became too onerous for this quietly-spoken, discreet young man. Often followed and stopped by Morocco's security services, Mohamed needed to escape. He found refuge in the desert. Travelling out of the city, he would spend time at his family's farm, caring for the sheep and goats and enjoying the stars in the wide, night sky. In the desert, he could breathe more easily and recharge his batteries. Mohamed would need that energy because the greatest challenge he would face as a journalist and human rights activist was yet to come.
On the side of the protesters at Gdeim Izik camp
In October 2010, Sahrawis set up a protest camp some 15 km outside El Aaiun. Called Gdeim Izik, it was established to highlight ongoing discrimination, poverty and abuse. Within days, a sea of tents had been pitched, and 20,000 people gathered. Mohamed filed reports for RASD Radio.
Meanwhile, Morocco's security forces looked on. Then on 8 November, after expelling all international observers from the area, the police and military moved to dismantle the camp. The Sahrawis resisted. There were violent confrontations, the Moroccans using firearms and water cannons against the protesters. Hundreds of Sahrawis were detained. Many died, dozens were injured.
In the days that followed, and at great personal risk, Mohamed continued to collect testimonies and describe the ongoing riots for his audience. He wanted to help practically if he could – especially with medical assistance. Sahrawis who had been wounded in the camp's eviction could not attend a hospital because they would be picked up by the Moroccan authorities. Mohamed agreed to guide two Belgian doctors who had offered to treat gunshot victims in their homes.
The hell of unjust imprisonment
On 20 November 2010, on his way to meet the medics, Mohamed was arrested by Moroccan intelligence agents.
Over two years later, and having been subjected to extensive abuse and torture in detention, he was sentenced to 25 years in prison. He was found guilty of 'violent acts' against Morocco's authorities, 'with the intention of killing'. He denied the charges, saying his confessions had been obtained under duress and that the evidence against him had been falsified.
Now Mohamed has been incarcerated for nearly 12 years. Apart from the harsh treatment he regularly receives in prison, he has not seen his family since September 2018. Calls home are irregular – only recently has he been allowed to make a very short, weekly telephone call.
The peaceful, starry, desert nights Mohamed used to enjoy have been replaced by the hell of unjust imprisonment.
Please join us in calling for his release.
For Arabic, click here.