China, People's Republic of
03.02.22
Zhang Zhan, a "rebellious soul" who exposed the truth about Covid-19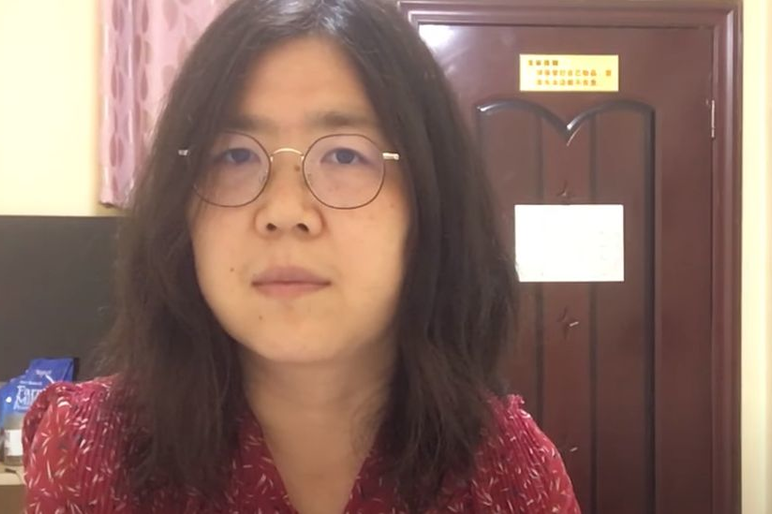 In early February 2020, Zhang Zhan walked along empty streets and packed hospital corridors in Wuhan, phone in hand. The sometimes shaky videos she posted on YouTube showed a city of 11 million people in total lockdown, its crematorium working day and night, empty shops, and threatening policemen who would stop her from filming. The reports provided a rare window into the epicentre of the Covid-19 pandemic, at a time when the Chinese government was doing everything to hide the true scale of the disease.
The lawyer turned "citizen journalist" was fully aware of the risks in a country that doesn't tolerate dissent in any form. "Maybe I have a rebellious soul" she mused in one of her videos. "I'm just documenting the truth. I won't stop what I'm doing, because this country can't go backwards."
Zhan continued posting her clips – 122 in total – and giving interviews to international media until 14 May, when she disappeared shortly after her return to Shanghai. When she was heard of again, she was in detention, and on hunger strike.
The turning point
It wasn't the first time Zhan was braving the authorities. In September 2019, she had been detained after displaying an umbrella in downtown Shanghai that called for an end to the Communist Party's monopoly on power, in solidarity with the pro-democracy protests in Hong Kong. She was released after two months and a first hunger strike.
In early 2020, she was deeply upset when reading an online post describing Wuhan as an "abandoned city where people are left to die". She bought a train ticket and arrived in Wuhan on 1st February 2020, a few days before the place was entirely sealed off from the outside world. "I really didn't know anything medical," she said later. "I just followed my heart." And an acute sense of justice. The lawyer turned citizen journalist braved the pervasive climate of fear in Wuhan to report on the families of Covid-19 victims who had been trying to hold the authorities to account and been harassed as a result.
According to Zhan's brother, the turning point was her conversion to Christianity in 2013. Shortly afterwards, the young and brilliant lawyer started embracing human rights causes and got involved in political activism. The authorities suspended her lawyer licence in retaliation.
In Wuhan, she saw a concentration of the government's heavy handedness: the coverup of the number of deaths, the refusal of any investigation into the origins of the pandemic, the sending of troops to handle public security. To her, all this was "about human rights violations, about persecution, about overemphasising authority" and had, "in the end, little to do with handling the pandemic."
On 28 December 2020, she became the first citizen journalist in China to be sentenced for reporting on the pandemic. Officially, the four-year term a court in Shanghai gave her was due to "picking quarrels and provoking trouble", a common charge used to silence dissent. From her wheelchair, she told the judge: "Doesn't your conscience tell you that what you are doing is wrong, in putting me in the dock?"
"She is so stubborn"
At that point, Zhan was already very ill due to intermittent hunger strikes. According to her lawyer, she had been force-fed through a nasal tube and physically restrained from removing it. She was suffering from malnutrition, painful ulcers and fluid retention in her limbs.
Outside China, Zhang Zhan was celebrated for her dogged pursuit of truth. In November 2021, Reporters Without Borders awarded the 38-year old the Press Freedom award for courage. Institutions such as the United Nations top human rights body, the European Union, and the US State Department asked for her release.
Zhan has been denied family visits but was allowed to talk to her mother on a video call in two instances. Following the last one, on 28 October 2021, her mother reported that Zhan, who is 1m77 tall, weighed less than 40 kg and was so weak that she couldn't even raise her head without assistance. "I cried for several hours straight after I got out" from the call, the mother told Radio Free Asia. About the same time, her brother tweeted: "She is so stubborn. I think she may not live long. She may not survive the coming cold winter. I hope the world remembers how she used to be."
The family have sought medical parole but were not optimistic about their chances of success. China is known for the human rights defenders who have either died in prison or shortly after their release, including Cao Shunli and Nobel Peace Prize laureate Liu Xiaobo.
As the Beijing Winter Olympics start, Zhang Zhan's current state of health remains unknown.
Join our call to release Zhang Zhan!