Reports
As appeal case continues, trial observation mission found Nabeel Rajab's five-year prison sentence followed unfair trial proceedings
​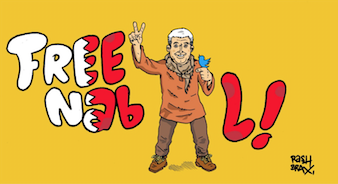 08 May 2018 - As theappeals trial in the case against prominent human rights defender NabeelRajabunfolds before the Court of Cassation, the NGO coalition that mandated an internationaltrial observation mission in February demands Bahraini authorities release him immediatelyand unconditionally, as his detention conditions are putting his life at risk.
On 08 May 2018, the Courtof Cassation, which has the final say in the case, postponed Nabeel Rajab'scase to 20 May 2018 for closing arguments.
On 21 February 2018, Nabeel Rajab was sentencedto five years in prison for tweeting about rights violations committed by theSaudi-led coalition in Yemen and poor conditions in Bahrain's Jaw prison. This ison top of a two-year sentence for media interviews upheld by the Court ofCassation on 15 January 2018. A trial observation mission mandated in February2018 by the Gulf Centre for Human Rights (GCHR), the Observatory forthe Protection of Human Rights Defenders (a partnership of FIDH and the WorldOrganisation Against Torture - OMCT), Front Line Defenders, English PEN, and theBahrain Center for Human Rights (BCHR) concluded that the trial proceedings in thetwitter case were unfair, noting in particular that neither Nabeel Rajab norhis lawyer were allowed to speak during a two-minute sentence hearing.
The missionreport, which looks at Nabeel Rajab's trial process and its compliance withinternational human rights treaties, condemns his sentence and detentionconditions, which are the latest illustration of the abusive tactics Bahrain'sauthorities have been using for years to silence him. Nabeel Rajab's health hasbeen severely impacted by his detention conditions and the lack of medical carereceived.
Theobserver, an Irish Barrister-at-Law, commented that as a lawyer, she "found theexperience both unusual and unsettling," saying that the fact that someonecould be sentenced to a five-year prison term without his legal team havinguttered a single word in his defence was astonishing. The observer witnessed asignificant military presence to the extent that court officials and indeed somelawyers seemed to be personally familiar with military officials, which raisesconcerns over the independence and impartiality of the judiciary. "As a lawyerit should be my right to be able to enter a court room and to observe the legalprocess of that jurisdiction. Whilst I was not prevented from doing so I didfeel that my presence was not welcomed or appreciated either upon arrival atthe airport or at the court buildings," she concluded.
Behind the smokescreen of Bahrain's flourishing economy, theKingdom is hiding numerous rights violations and relentless efforts to silencethose who are shedding light on these abuses - of which NabeelRajab's sentence and detention conditions are a key example, states the report.
In viewof these elements, our organisations urge the authorities of Bahrain to releaseNabeel Rajab immediately and unconditionally, as his detention is arbitrary,and his prison conditions amount to ill-treatment and are endangering his life,as well as to guarantee in all circumstances his physical and psychologicalintegrity and that of all human rights defenders in Bahrain.
The fullreport with recommendations is available online in English and Arabic.
NabeelRajab is BCHR's President, GCHR Founding Director, FIDH Deputy SecretaryGeneral, and a member of the Human Rights Watch MENA Advisory Board. He has been imprisoned under particularly harshconditions since his arrest on 13 June 2016.
Presscontacts:
GCHR: Khalid Ibrahim - Tel: +961 70159552, or khalid@gc4hr.org
FIDH: Maryna Chebat - Tel: +33 6 48 05 91 57, or mchebat@fidh.org / Rabie Naim (Arabic) – rnaim@fidh.net
OMCT: Delphine Reculeau – Tel: +41 22 809 49 39, ordr@omct.org