Statements
HRC47: a global call from human rights groups to end police violence in Colombia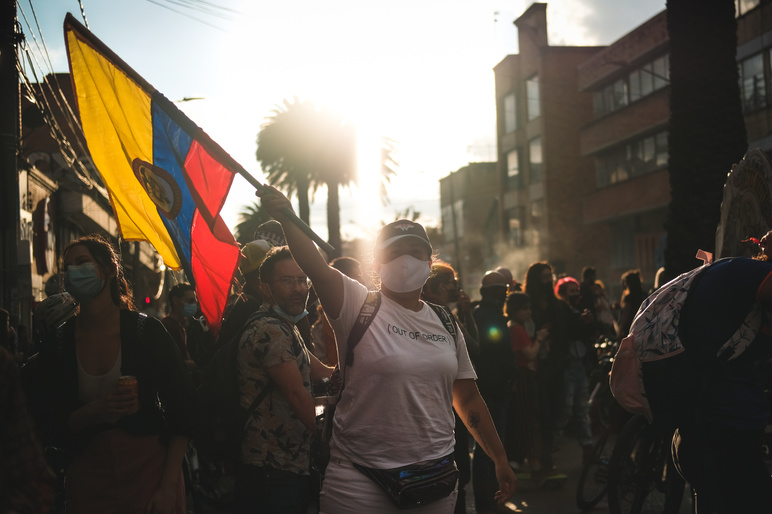 47th session of the Human Rights Council
Item 3: Interactive dialogue with the Special Rapporteur on extrajudicial, summary or arbitrary executions (1st July 2021)
Read by: Óscar Eduardo Ramírez
Thank you Madam President.
As emphasised in the outgoing Rapporteur's report, the Covid-19 pandemic has exacerbated social and economic inequalities and, if urgent action is not taken, we will face an epidemic of police killings on an unprecedented scale.
The case of Colombia illustrates this trend. A large number of organisations from around the world endorsing this statement are deeply concerned about the brutal repression of protests that began two months ago, generated by poverty, inequalities and systemic racism. As of 28 June, human rights organisations have recorded 83 people who have lost their lives as a result of the action of security forces and armed civilians.
Police, the Mobile Anti-Riot Squad and the army have used firearms with lethal ammunition extensively against demonstrators. Indiscriminate and excessive use of "less lethal" weapons, including multiple projectile launchers, has also been documented.
Mr. Rapporteur and members of the Human Rights Council, we urgently call on you to urge the Colombian authorities to take the necessary measures to respect and guarantee the right to life in the context of protests; to document and investigate all cases of arbitrary deprivation of life, identifying those who gave the orders; and to ensure that those responsible are tried by a civilian judge and under no circumstances by a military court.
In the same vein, it is urgent to support the Special Jurisdiction for Peace in the clarification of the more than 6000 extrajudicial executions under investigation, most of which were committed between 2002 and 2008, in order to guarantee their non-repetition.
Signatories:
ACAT España-Catalunya, Spain
ACAT-Belgique, Belgium
ACAT-France, France
ACAT-Germany (Action by Christians for the Abolition of Torture), Germany
ACAT-Italia, Italy
ACAT-Suisse, Switzerland
Accion Colectiva de Objetores y Objetoras de Conciencia (ACOO), Colombia
Action By Christians Against Torture, United Kingdom
Action et Solidarité pour La Colombie et Ailleurs, Canada
Action poetique SOS Colombie, France
ActivaT en Derechos Humanos, Spain
AELAC Brasil y Partido de los trabajadores, Brazil
Agrupacion de Familiares de Detenidos Desaparecidos de Parral, Chile
Agrupación de Familiares de Detenidos Desaparecidos de Chillan, Chile
Agrupación de familiares de Detenidos Desaparecidos de La Serena Región de Coquimbo, Chile
Agrupacion de Familiares de Detenidos Desaparecidos y Ejecutados Políticos de la Provincia de Talca, Chile
Agrupacion de Familiares de Detenidos Desaparecidos y Ejecutados Políticos de la Provincia de Osorno, Chile
Agrupación de Familiares de Ejecutados Políticos (AFEP), Chile
Agrupación Víctimas de derechos humanos de San Carlos, Chile
Alianza de Organizaciones Sociales y Afines Colombia, Colombia
Alternativa de Reivindicación Comunitaria y Ambientalista de Honduras (ARCAH), Honduras
ANEP, Costa Rica
Antigone, Italy
Arbeitsgruppe Schweiz Kolumbien, Switzerland
ÁRBOL Red de organizaciones comunitarias y sociales del barrio Bello Oriente la montaña que siente, Colombia
Articulación de Lesbianas Feministas de Lima, Peru
Articulacion Feminista Marcosur, Peru
Asmetrosalud Medellín, Colombia
Asocampo, Colombia
Asociación Defensa de Niñas y Niños Internacional, Colombia
Asociación Afroamericana de Constructores Víctimas, Colombia
Asociación Afroamericana de Mujeres Cabezas de Hogar Víctimas, Colombia
Asociación Ambientalista y Animalista del Atlántico, Colombia
Asociación Antonio Nariño - Colectivo por los derechos humanos de Bugalagrande Valle, Colombia
Asociación Ayujara, Spain
Asociación civil Japiqay, Memoria y Ciudadanía, Peru
Asociación colombiana de redes para la transformación docente REDLENGUAJE, Colombia
Asociacion Colombiana Mutualista para la Vida ACMUV, Colombia
Asociacion Costarricense de Derechos Humanos (ACODEHU), Costa Rica
Asociación de inmigrantes y refugiados en el estado español Entreiguales, Spain
Asociacion de mujeres cafuches del Meta y Mesa de la mujer y lider social de mujeres, Colombia
Asociación de mujeres víctimas por las Paz, Colombia
Asociación Ecuménica de Cuyo, Argentina
Asociación Piwam, Colombia
Asociación Pro Derechos Humanos de España (APDHE), Spain
Asociación Sindical de los Directivos Docentes de Ibagué y del Tolima (ASDDETOL), Colombia
Asociación de Deplazados por la Violencia en Colombia (ASODESPOR), Colombia
Asomuvicopaz, Colombia
Asona Judicial S.I Antioquia, Colombia
Association Aipazcomun, Switzerland
Association Les Amis du Vénézuela, Benin
Association marocaine des droits humains (AMDH), Morocco
Association Mi Passion, France
Associazione di Promozione Sociale Migras, Italy
Atelier ONGD, Spain
Banglar Manabadhikar Suraksha Mancha (MASUM), India
Belaady organisation for human rights, Libya
Biblioteca Escuelita de la Paz, Colombia
Biso Peuple, Democratic Republic of Congo
Bloque de Vivienda, Costa Rica
Cambodian Center for Human Rights (CCHR), Cambodia
Campaña Peruana por el Derecho a la Educación, Peru
Canadian Human Rights International Organization, Switzerland
Casa El Emigrante (Human Rights), Costa Rica
CEAR-Euskadi, Euskadi
Centro de Estudios Legales y Sociales (CELS), Argentina
Center for International Environmental Law (CIEL), International
Central Unitaria de los Trabajadores y su Departamento de Derechos Humanos del Valle del Cauca, Colombia
Central unitaria de trabajadores CUT Colombia, Colombia
Centro "Flora Tristan", Peru
Centro de Asistencia Legal a Pueblos Indigenas (CALPI), Nicaragua
Centro de Derechos Humanos Fray Bartolomé de Las Casas, AC (FrayBa), Mexico
Centro de Derechos Humanos Paso del Norte, Mexico
Centro de Estudios Sociales y Publicaciones, Peru
Centro de Políticas Públicas y Derechos Humanos-Perú EQUIDAD, Peru
Centro de Promoción y Formación en Derechos Humanos de Venezuela (CENPROFORDDHH-VENEZUELA), Venezuela
Chicago Religious Leadership Network on Latin America, Estados Unidos
Centro de Salud Mental y Derechos Humanos (CINTRAS), Chile
Círculo Podemos Periodismo y Medios, Spain
Citizen Diplomacy, The Netherlands
Ciudadanía Activa, Peru
Ciudadanos Dignos del Callao, Peru
CIVICUS: World Alliance for Citizen Participation, International
Clade, Brazil
CLPOAM. UNPSJB, Argentina
Club de Amigos de la Unesco de Madrid, CAUM, Spain
CMI-Venezuela, Venezuela
Coordinadora Nacional de Trabajadores de la Educación (CNTE), Mexico
Coalición Colombiana Por el Derecho a La Educación, Colombia
Coalición de Tendencias Clasistas en La Diversidad Venezuela (CTCDVENEZUELA), Venezuela
Comité de Familiares de Detenidos-Desaparecidos en Honduras (COFADEH), Honduras
COFAVIC, Venezuela
Colectiva de Mujeres Refugiadas, Exiliadas y Migradas, Spain
Colectivo CEAAL-Costa Rica, Costa Rica
Colectivo Dario Betancourt Echeverry, Colombia
Colectivo de Colombianos en Lille, France
Colectivo Entre Amigos, France
Colectivo José Martí, Colombia
Colectivo Nelson Mandela, Ecuador
Colectivo Solidario de Ginebra, Switzerland
Collectif colombiens Lille, France
Colombia humana, Switzerland
Comisión Colombiana de Juristas (CCJ), Colombia
Comisión de Derechos Humanos (COMISEDH), Peru
Comisión de Justicia Social de Chimbote, Peru
Comisión Mexicana de Defensa y Promoción de Derechos Humanos A.C, Mexico
Comité Afro Contra la Discriminación y Xenofobia, Colombia
Comité Ambiental de Piedras Tolima, Colombia
Comité Colombia - Noruega- LAG por la defensa de los DDHH y la cultura, Norway
Comité de Solidaridad con los Presos Politicos (FCSPP), Colombia
Comite de Solidaridad Internacionalista de Zaragoza, Spain
Comité madrileño de defensa de los DDHH en Colombia (COMADEHCO), Spain
Committee on the Administration of Justice, Northern Ireland
Comundo, Switzerland
Confederación Sindical de Comisiones Obreras (CC.OO.), Spain
Confédération paysanne, France
Connybri Cultural, Colombia
Consejo de Educación Popular de América Latina y el Caribe CEAAL, Latin America
Consejo Territorial de planeación San Vicente de Chucuri, Colombia
Consorcio para el diálogo parlamentario y la equidad Oaxaca, Mexico
Cooperacció, Spain
Cooperativa Multiactiva red de agrixultores biologicos del Cauca, Colombia
Coordinación Nacional de Pueblos Indígenas (CONPI), Colombia
Coordinación zonal de mujeres zona nororiei, Medellín, Colombia
Corporación Cultural para el desarrollo Arlequin y los Juglares, Colombia
Corporación artística y cultural CLAUDICANTES, Colombia
Corporación Colectivo Sociojurídico Orlando Fals Borda, Colombia
Corporación Comunitaria Cuyeca A Obsun, Colombia
Corporación Conciudadanía, Colombia
Corporación de Promoción y Defensa de los Derechos del Pueblo (CODEPU), Chile
Corporación Nelson Mandela, Colombia Medellín Antioquia
Corporacion par la Defensa y Promocion de los Derechos Humanos REINICIAR, Colombia
Comité Permanente por la Defensa de los Derechos Humanos (CPDH), Colombia
CPM Micaela Bastidas, Peru
Defence for Children International, Switzerland
DESCOLPAZ CORPORACION, Colombia
Diáspora y Paz, Spain
DKA Austria, Austria
Documenta AC, Mexico
Documental Amarillo, Colombia
Echoes of Colombia, Australia
Ecos de Colombia-Migracion y Refugio, Costa Rica
Educación ambiental a través del arte y el buen vivir, Mexico
Egyptian Commission for Rights and Freedoms, Egypt
Enda-Colombia, Colombia
Equidad de Genero, Ciudadanía, Trabajo y Familia AC, Mexico
EQUIEDUCA, Peru
Escuela Nacional Sindical, Colombia
Escuela Normal Superior Cundinamarca, Colombia
Espacio de Confluencia de Personas Defensoras de Derechos Humanos de América Latina, Latin America
Ethiopian Human Rights Defenders Center, Ethiopia
Europa en Suma, Spain
Explocultura latina, France
Ex Trabajadores jubilados y pensionados de Goid Year de Colombia, Cali Valle del Cauca, Colombia
Fastenopfer, Switzerland
Fenaltrase Antioquia, Colombia-Antioquia
FIAN International
FIAN Colombia, Colombia
Groupe FIAN-Haiti, Haiti
Fondo Lunaria, Colombia
Forum Solidaridad, Peru
France Amérique Latine, France
France Colombie, France
Franciscans International
Fraternidad y Sororidad Raices, Colombia
Free Legal Assistance Group (FLAG), Philippines
Frente cívico de Zona Sur, Costa Rica
Friends of Venezuela, Benin
Fundación Akina Zaji Sauda - Conexión de mujeres negras, Colombia
Fundación Cultura Democrática, Colombia
Fundacion Ecológica Bacata, Colombia
Fundación Ecuménica Para el Desarrollo y la Paz (FEDEPAZ), Peru
Fundación Grandes Transformaciones, Colombia
Fundacion Luis Felipe Vélez, Colombia
Fundacion Nuestramerica, Costa Rica
Fundacion Proclade Internacional
Fundacion Progresar, Colombia
Fundación Sabia Cultural, Colombia
Fundacion SES, Argentina
Fundación social de Sinú (FUNSINU), Colombia
Fundación "Volvamos a Creer" (FUNVACRER), Colombia
GAMAG EUROPE
Global Exchange, United States
Grupo de teatro La Barca de los Locos, Colombia
Grupo Estudiantil y Profesional de Psicología Univalle (GEPU), Colombia
Gulf Center for Human Rights (GC4HR), Middle East
Handmaids Costa Rica, Costa Rica
Homa / Human Rights and Business Centre, Brazil
Human Rights Alert (HRA), India
IFOR (International Fellowship of Reconciliation), Netherlands
In Defense of Human Rights and Dignity Movement (iDEFEND), Philippines
Incorporación Latinoamericana Sur, Colombia
Instituto de Terapia e Investigación sobre las Secuelas de la Tortura y la Violencia de Estado (ITEI), Bolivia
Instituto Latinoamericano para una Sociedad y Derecho Alternstivos (ILSA), Colombia
Instituto para el desarrollo y la paz amazonica, Peru
Instituto Paulo Freire Brasil, Brazil
Intal America Latina, Belgium
International Bar Association's Human Rights Institute (IBAHRI)
International Institute on Race, Equality and Human Rights, Americas
INTERSINDICAL Catalunya, Spain
Intersindical Valenciana, Spain
International Service for Human Rights (ISHR), International
JAC del barrio urbanización lili, Colombia
Karapatan Alliance Philippines, Philippines
kolko - Menschenrechte für Kolumbien e.V. Alemania, Germany
Las Sin carpa, Spain
Latin America Working Group (LAWG), United States
LUDOBIBLIOTEKA Manuel Burgos TEOFANÍA, Colombia
Magisterio Democrático del Valle de México sección 36 CNTE, Mexico
Marcha Global contra el Trabajo Infantil Sudamérica
Marcha Patriótica Bogotá, Colombia
Medical Action Group (MAG), Philippines
Memoria Mapu, Chile
Mesa de Derechos Humanos Comuna 2 Santa Cruz Medellín, Colombia
Mesa de Salud por Boyacá, Colombia
Mesa departamental de derechos humanos y territorios del Cesar, Colombia
Mesa étnica internacional RECIPAZ, Spain
Movice Capítulo Madrid, Spain
Movimiento Ciudadano por la defensa del territorio de Pitalito Huila, Colombia
Movimiento de Autoridades Indígenas del Sur Occidente (AISO), Colombia
Movimiento de Mujeres Indígenas Tzununija, Guatemala
Movimiento de Trabajadores y Campesino (MTC), Costa Rica
Movimiento Manuela Ramos, Peru
MST - Movimento Sem Terra, Brazil
Mujeres Nuevo Perú, Peru
Mundubat, Spain
Network in Solidarity with the People of Guatemala (NISGUA), Guatemala/United States
Observatorio Ciudadano (OC), Chile
Observatorio Sistema Penal y Derechos Humanos (Universidad de Barcelona), Catalonia
Odhikar, Bangladesh
Oidhaco - Oficina Internacional de los Derechos Humanos Acción Colombia, Belgium
Omega Research Foundation, United Kingdom
ONG Renacer Prais de Ñuble, Chile
Paris Nanterre Université, France
Partido Comunes, Mexico
Pax christi Kommission Solidarität Eine Welt, Germany
Pazpartout, France
Peace Brigades International (PBI)
Peace Women Across the Globe (PWAG), Switzerland
Peru Libre Francia, Peru
Plataforma por la Educación, Peru
Presbyterian Peace Fellowship
Prevención, Capacitación y Defensa del Migrante, AC (PRECADEM), Mexico
Primera línea juridica Colombia Valle del Cauca, Colombia
Programa Venezolano de Educación Acción en Derechos Humanos, Venezuela
Promo LEX, Moldova
Protection International
Red Contrayendo Paz Latinoamericana (CoPaLa), Mexico
Red de Bibliotecas Populares de Antioquia (REBIPOA), Colombia
Red de Educación de Personas Jóvenes y Adultas (EPJA), Colombia
Red Flamenca de Solidaridad con la Comunidad de Paz de San José de Apartadó, Belgium
Red internacional de colombianos, France
Red Mariposas de Alas Nuevas, Colombia
Red Mesoamericana de Educación Popular
Red Nacional de Organismos Civiles de Derechos Humanos "Todos los Derechos para Todas y Todos", Mexico
Rescatar la Información, Spain
Réseau International des Droits Humains Europe (RIDHE), Belgium
Réseau International des Droits Humains RIDH, Switzerland
Resistencia Cultural, France
Rural People's Sangam, India
Salam for Democracy and Human Rights, Bahrain
Sercoldes, Colombia
Servicio Paz y Justicia en América Latina SERPAJ, Colombia
Sindicato de Trabajadores del Instituto de Educación Media Superior de la Ciudad de México (SITRAIEMS-CDMX), Mexico
Sindicato de Trabajadores del Sistema Nacional Ambiental (SINTRAMBIENTE), Colombia
Subdirectiva Buga, Colombia
Sindicato Unitarios de Trabajadores de la Educacion del Perú (SUTEP), Peru
SINTRAEMSDES Pereira, Colombia
Sister Parish, United States
Sitromud Víctor Larco, Peru
SOLdePaz.Pachakuti Asturias, Spain
SOLIFONDS, Switzerland
Somos Cauca, Colombia
Step by step organisation for the rule of law, Libya
Sindicato Único de Educadores y Trabajadores de la Educación Bolívar (SUDEB), Colombia
SUTEV Buga, Colombia
SweFOR (Swedish Fellowship of Reconciliation), Sweden
SWISSAID, Suiza - Colombia
Taula Catalana por la Paz y los Derechos Humanos en Colombia - Catalonia, Spain
Teatro Casa del Sol, Venezuela
The independent organisation for human rights, Libya
The Libyan Crime Watch, Libya
The Norwegian Human Rights Fund, Norway
The Omani Centre for Human Rights, Oman
Toma social: creando videos para el cambio, Spain
Tribunal Internacional de Conciencia de los Pueblos en Movimiento (TICPM), Mexico
Unidad de Protección a Defensoras y Defensores de Derechos Humanos – Guatemala, Guatemala
Unidos por Colombia APS, Italy
Union de Ciudadanas de Colombia, Colombia
Unión Sindical Obrera – USO, Colombia
Urabá Global Suisse-Colombia, Switzerland
Veeduría Ambiental y Social Maipore- Soacha, Colombia
Viva la Ciudadanía, Colombia
Wakifoundations, Colombia
Washington Office on Latin America (WOLA), United States
Wiphala France, France
Witness for Peace - Accion Permanente por la Paz, United States
World Organisation Against Torture (OMCT), Switzerland
XUMEK, Argentina
Youth for Tawargha organization, Libya