Statements
Israel/oPT: Illegal deportation of Salah Hamouri sets a dangerous precedent for all human rights defenders in Palestine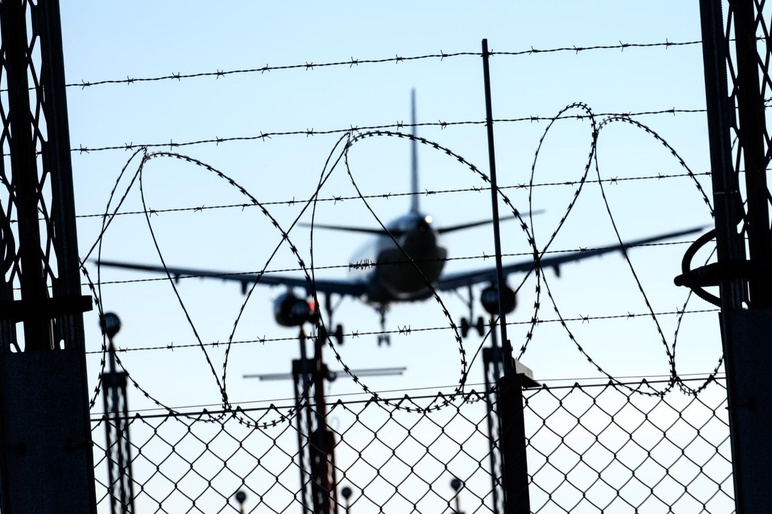 © Håkan Dahlström / Wikicommons
JOINT STATEMENT - THE OBSERVATORY


Paris–Geneva, December 23, 2022 – Israeli authorities have arbitrarily deported Salah Hamouri from his hometown, Jerusalem, to France, in clear breach of international law. The Observatory for the Protection of Human Rights Defenders (FIDH-OMCT) and LDH are appalled by this decision and urges the Israeli authorities to guarantee Mr Hammouri's liberty of movement and freedom to choose his residence, and to grant him with unhindered access to his hometown.
In the morning of December 18, 2022, French-Palestinian lawyer and researcher for the NGO Addameer Salah Hamouri landed in France. A few hours earlier, he had been forcibly boarded on a plane after the Israeli authorities decided to deport him to France, following the arbitrary revocation of his permanent residency in Jerusalem, based on "breach of allegiance" to Israel. This deportation comes after more than nine months of administrative detention, first in Al-Moskobiya detention centre in Jerusalem, and then in the high-security prison of Hadarim, Israel, where he had been arbitrarily imprisoned from July 26, 2022 and subjected to solitary confinement and inhumane treatment.
This forcible deportation constitutes a blatant breach of international law, as forcibly deporting inhabitants of an occupied territory is prohibited under Article 49 of the Fourth Geneva Convention, as recalled by UN human rights experts on December 2, 2022, and considered a war crime under Article 8 of the Rome Statute. This deportation marks a clear escalation in Israel's systematic targeting of Palestinian human rights defenders and sets a dangerous precedent for all of them based in Jerusalem, as it severely hinders their ability to carry out their legitimate activities.
The Observatory and LDH recall that Salah Hamouri was arbitrarily arrested on March 7, 2022, without charge or trial, on the sole basis of a file declared secret that his lawyer was not allowed to consult, which makes his detention illegal under international law.
The Observatory and LDH further recall that the Israeli authorities have long intended to deprive Mr Hamouri from his permanent residency in Jerusalem. On June 29, 2021, the Israeli Minister of the Interior announced the adoption of recommendations made by the Israeli intelligence services to revoke his permanent residency based on "breach of allegiance", and on October 18, 2021, the revocation became official. Mr Hamouri's lawyer challenged this decision. The Israeli Supreme Court was expected to rule on the withdrawal of his identity card in February 2023. At the time of publication of this statement, it remains unknown whether this hearing will take place
For several years now, Salah Hamouri has been subjected to continuous repression and numerous arbitrary detentions by the Israeli occupation forces because of his peaceful human rights activities. In total, Salah Hamouri has spent nine years in Israeli prisons, divided into six periods of detention. Additionally, Salah Hamouri's wife, Elsa Lefort, a French national, and their children, have been banned by the Israeli authorities from entering Israel and the Occupied Palestinian Territory since 2016. This constant harassment led United Nations human rights experts to express their concerns over Mr Hamouri's case several times over the years.
The Observatory and LDH condemn in the strongest terms the forcible deportation of Salah Hamouri to France, as well as Israel's violation of international humanitarian and human rights law, and urges the authorities to abide by their international obligations and to guarantee Mr Hamouri's liberty of movement and freedom to choose his residence, as well as his right to return to Jerusalem freely.
The Observatory and LDH also denounce the inability of the French authorities to protect Salah Hamouri, a French national, from being forcibly transferred, as well as their lack of actions to prevent the numerous human rights violations inflicted on him by the Israeli authorities over the years. The Observatory and LDH call on the French authorities to urge the authorities of Israel to ensure Salah Hamouri can return to Jerusalem freely.
****
The League for Human Rights (Ligue des Droits de l'Homme - LDH) is a general and independent association, recognised as being of general interest, for the promotion and defence of fundamental rights. It has been fighting for freedoms, justice, civil, political, economic, social and cultural rights, the defence of freedoms against security intrusions in private life, against racism and anti-Semitism and the different forms of discrimination for over 120 years.
The Observatory for the Protection of Human Rights Defenders (the Observatory) was created in 1997 by the International Federation for Human rights (FIDH) and the World Organisation Against Torture (OMCT). The objective of this programme is to intervene to prevent or remedy situations of repression against human rights defenders. FIDH and OMCT are both members of ProtectDefenders.eu, the European Union Human Rights Defenders Mechanism implemented by international civil society.