Statements
Jorge and Marcelino, sentenced to 35 years for a murder they didn't commit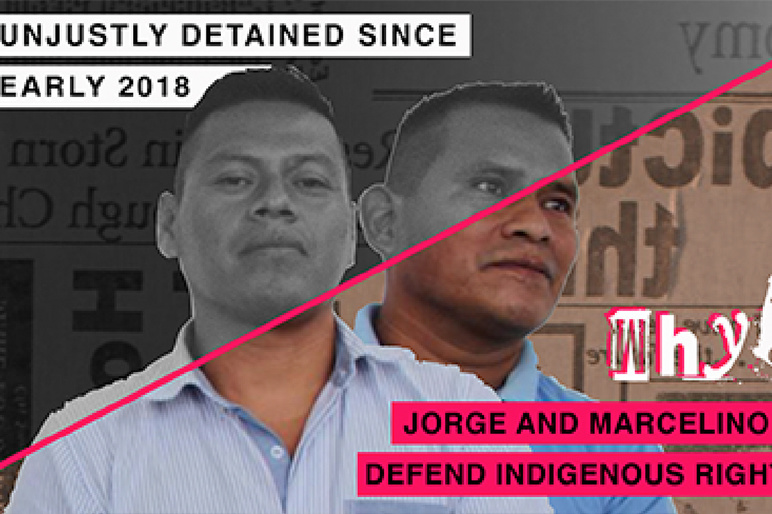 ➡Learn more about our #FacesOfHope campaign

On 13 July 2017, a worker from Cooperativa Chilté, in the northern highlands of Guatemala, was killed, while several were injured. At the time, Jorge Coc Coc was at home, caring for his sick father. Marcelino Xol Cucul was teaching in a community several hours away. Both men were nonetheless arrested at the beginning of 2018 on charges of "homicide" and "attempted homicide" in the case. Despite serious inconsistencies in the testimonies of the witnesses and the acquittal of two other people arrested under the same charges, they were sentenced in October 2019 to 35 years in prison, without parole. Jorge and Marcelino have appealed their sentence, but risk spending their life in prison for a crime they didn't commit.
Far from being a simple judicial error, their story is emblematic of the battle for land, water and other natural resources playing out in Guatemala, one of the most unequal countries in the world. On one side, there is a tiny elite that controls the State, presiding over a predatory economic system where resources are in the hands of a few, supported by a judiciary that often lacks independence. On the other, indigenous communities defending their ancestral lands against forced evictions, logging and mining, who operate in a highly hostile and dangerous environment.
In Guatemala, the criminal justice system is systematically misused against human rights defenders who work for justice and against impunity, and peacefully protect their communities against powerful interests, including those of large corporations and landowners. Those working on land and indigenous rights are particularly targeted. In addition to unfounded lawsuits, beatings and even killings are frequent, with hardly any culprits brought to justice.
In this context, Jorge and Marcelino were moving targets. They are Q'eqchi Mayan indigenous leaders and members of an organisation based in the Verapaces region, called Peasants' Committee of the Highlands (CCDA). The CCDA strives to reduce inequality and increase the participation of marginalized rural and indigenous communities in social, economic, cultural and political life, and advocates against land grabbing by powerful landowners. For over ten years, their community of Choctun Basilá, near the regional capital Cobán, has been in a land dispute with the company Cooperativa Chilté, which has exacted a heavy toll: a campaign of criminalisation and attacks against the CCDA that culminated in the killing of six of its members and the arbitrary detention of Jorge and Marcelino.
Join our call to release Jorge Coc Coc and Marcelino Xol Cucul!