Urgent Interventions
Assassination of environmental activist Gloria Capitan
@font-face { font-family: "Arial";}@font-face { font-family: "MS 明朝";}@font-face { font-family: "Cambria Math";}p.MsoNormal, li.MsoNormal, div.MsoNormal { margin: 0cm 0cm 0.0001pt; font-size: 10pt; font-family: "Times New Roman"; }p.MsoFootnoteText, li.MsoFootnoteText, div.MsoFootnoteText { margin: 0cm 0cm 0.0001pt; font-size: 12pt; font-family: "Times New Roman"; }span.MsoFootnoteReference { vertical-align: super; }a:visited, span.MsoHyperlinkFollowed { color: purple; text-decoration: underline; }p { margin: 14pt 0cm; font-size: 10pt; font-family: "Times New Roman"; }p.MsoNoSpacing, li.MsoNoSpacing, div.MsoNoSpacing { margin: 0cm 0cm 0.0001pt; font-size: 10pt; font-family: "Times New Roman"; }span.NotedebasdepageCar { font-family: "Times New Roman"; }span.CommentReference { }.MsoChpDefault { font-family: Cambria; }div.WordSection1 { page: WordSection1; }ol { margin-bottom: 0cm; }ul { margin-bottom: 0cm; }
PHL 001 /0716 / OBS 057
Murder
The Philippines
July 8, 2016
TheObservatory for the Protection of Human Rights Defenders, a partnership of theWorld Organisation Against Torture (OMCT) and FIDH, requests your urgent interventionin the following situation in the Philippines.
Briefdescription of the situation:
The Observatory has been informed by reliable sources,including the Medical Action Group (MAG), the Philippine Alliance of Human Rights Advocates (PAHRA) and theTask Force Detainees of the Philippines (TFDP), about the assassination of Ms. Gloria Capitan, 55, President of"Samahan ng Nagkakaisang Mamamaya ng Lucanin" (SNML - United Citizenry ofLucanin) and environmental activist opposed to the construction and presence ofcoal stockpile facilities in Lucanin, in the Mariveles neighbourhood, Bataan province.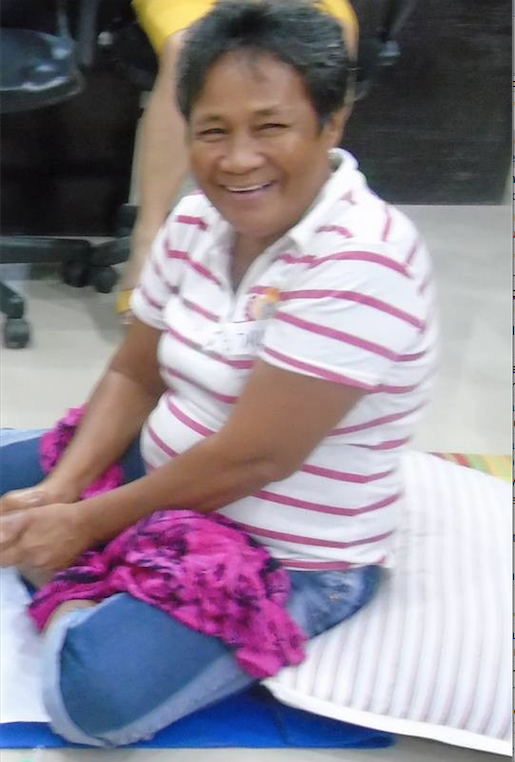 Accordingto the information received, on July 1, 2016, at around 7:30 p.m., Ms. GloriaCapitan was shot and killed by two unidentified men riding a motorcycle. Thetwo assailants had been waiting near the entrance to the family's businessestablishment in Purok 2, Barangay Lucanin, Mariveles municipality, Bataanprovince. One of the men entered the establishment and shot her four times inthe neck and arm, in front of her cousin and two of her grandchildren, one ofwho was also hit by a bullet shell and sustained minor injuries. Ms. GloriaCapitan was first transported to a small clinic in Lucanin and latertransferred to MAHESECO Multipurpose Cooperative Hospital in Mariveles. Shedied of multiple gunshot wounds shortly before arriving at MAHESECO hospital.
Familymembers living in the family's compound nearby heard the gunshots followed bythe witnesses' screams. Ms. Gloria Capitan's sons decided to chase the gunmenbut lost them after the perpetrators turned off their vehicle's lights. Theywent to the nearby police cluster[1]to ask for help. The police allegedly failed to respond quickly and did not setup a checkpoint. According to reports, the police inMariveles are currently conducting investigations into Ms. Capitan'skilling.
Ms.Gloria Capitan faced intimidation and threats since 2015 in relation to hercampaign activities opposing the construction and presence of the open coalstorage facility located inside the Seafront Shipyard and Port TerminalServices Corporation, near their neighbourhood owned by the Limay Bulkand Terminal Handling Corporation. Ms. GloriaCapitan had led the community to file a petition to the Department ofEnvironment and Natural Resources (DENR) and the Commission on Human Rights(CHR), calling for the permanent closure of the open storage facility aftermembers of the community complained of an increase in the number of severeasthma cases and respiratory diseases. There is also an ongoing case withthe Ombudsman against the local government regarding the issue.
TheObservatory strongly condemns the killing of Ms. Gloria Capitan and calls upon the authorities of the Philippinesto conduct an immediate, thorough, effective, and impartialinvestigation in order to identify all those responsible, bring them before acivil competent and impartial tribunal, and apply the penal sanctions providedby the law.
Actionsrequested:
Please write to theauthorities in the Philippines, urging them to:
i.Guarantee in all circumstances the physical and psychological integrity of allSNML members as well as all human rights defenders in the Philippines,including land and environmental rights activists;
ii.Carry out an immediate, thorough, impartial and transparent investigation intothe killing of Ms. Gloria Capitan in order to identify all those responsible,bring them before an independent tribunal, and sanction them in accordance withthe law;
iii.Provide adequate reparation and compensation to Ms. Gloria Capitan's relatives;
iv. Put an end to any kind ofharassment against all human rights defenders in the Philippines, recognisetheir legitimate role, and ensure in all circumstances that they are ableto carry out their legitimate activities without any hindrance or fear ofreprisals;
v.Comply with all the provisions of the United Nations Declaration on HumanRights Defenders, adopted by theUN General Assembly on December 9, 1998, especially its Articles 1 and 12.2;
vi.Ensure in all circumstances respect for human rights and fundamental freedomsin accordance with international human rights standards and internationalinstruments ratified by the Philippines.
Addresses:
· H.E. Rodrigo Roa Duterte, Presidentof the Republic of the Philippines, Fax: +63 2 736 1010
· Justice Secretary Vitaliano N.Aguirre II, Secretary, Department of Justice (DOJ) of the Philippines,Fax: +63 2 523 9548, Email: communications@doj.gov.ph
· Secretary Regina Paz L. Lopez,Department of Environment and Natural Resources (DENR) of the Philippines, Fax:+63 2 920 4301, Email: osec@denr.gov.ph
· Secretary Ismael D. Sueno,Secretary, Department of Interior and Local Government (DILG Philippines), Fax:+63 2 925 0332
· Hon. Jose Luis Martin C. Gascon,Chairperson, Commission on Human Rights (CHR) of the Philippines, Fax: +632 929 0102, Email: chairgascon.chr@gmail.com
· H.E. Ambassador Victoria S Bataclan,Embassy of the Philippines in Brussels, Belgium, Fax: +32 2 345 64 25, Email: brusselspe@gmail.com
· H.E. Ms. Cecilia B. Rebong,Ambassador, Permanent Mission of the Philippines to the United Nations inGeneva, Switzerland, Fax: +41 22 716 19 32, Email: geneva.pm@dfa.gov.ph
Please also write to the diplomatic mission or embassyof the Philippines in your respective country.

[1] Apolice cluster is a small police station that can only accommodate three tofive police officers.