Urgent Interventions
Azerbaijan: Deteriorating health conditions of Elchin Mammad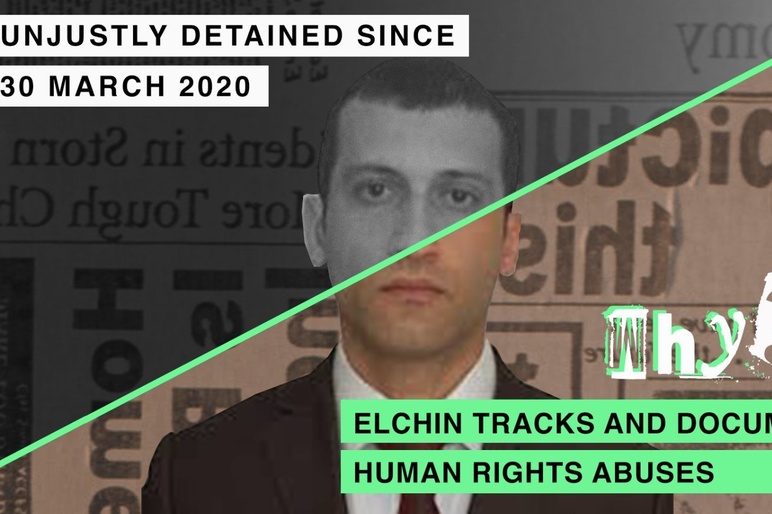 New information
AZE 001 / 0520 / OBS 055.3
Degradation of health condition /
Arbitrary detention /
Judicial harassment
Azerbaijan
June 16, 2021
The Observatory for the Protection of Human Rights Defenders, a partnership of the World Organisation Against Torture (OMCT) and FIDH, has received new information and requests your intervention in the following situation in Azerbaijan.
New information:
The Observatory has been informed about the deteriorating health conditions and ongoing arbitrary detention of Elchin Mammad, human rights lawyer, President of the Social Union of Legal Education of Sumgait Youth (SULESY), an NGO providing free legal assistance to low income families and non-profits, as well as the Editor-in-chief of the newspaper Yukselish Namine, which publishes articles on human rights concerns in the country.
On June 12, 2021, Elchin Mammad was transferred to the Main Medical Department of the Ministry of Justice (Central Penitentiary hospital), following an order from the Ministry of Justice of Azerbaijan. Elchin Mammad's health condition has drastically deteriorated while detained in prison No. 14 of the Penitentiary Service of the Ministry of Justice as a result of not receiving adequate medical care. Six days before his transfer to the penitentiary hospital, Elchin Mammad fainted. Moreover, he has lost a significant amount of weight while in detention, has trouble walking and swollen legs. Being ill with Hepatitis C, his health condition is particularly concerning and puts him at high risk of contracting Covid-19 in view of the overcrowding and poor prison conditions in Azerbaijan.
The Observatory recalls that on March 30, 2020, the police arrested Mr. Elchin Mammad at his home in the city of Sumgait, a few days after he had published online a critical report on the human rights situation in Azerbaijan. The police claimed to have found stolen jewellery worth 7,500 manats (around 4,070 Euros) and ammunition at his office. The Sumgait City Court remanded Mr. Elchin Mammad in custody on charges of "theft causing significant damage" and "illegal purchase and possession of firearm accessories". On October 14, 2020, the Sumgait City Court sentenced Mr. Elchin Mammad to four years in prison.
The Observatory further recalls that the circumstances in which the verdict was handed down suggest that Mr. Elchin Mammad did not benefit from a fair trial. The evidence heard at the trial was inconsistent and should not have led to Mr. Mammad's conviction, while the investigation phase also appeared to have been marred by police tampering of evidence. Yet, on February 19, 2021, the Sumgayit Court of Appeal upheld the four-year prison sentence of Elchin Mammad and concluded that his right to a fair trial was respected during the judicial proceedings in his case. Mr. Mammad's lawyer appealed the decision before the Supreme Court of Azerbaijan. His appeal hearing will take place on July 7, 2021.
The Observatory expresses its utmost concern over the health condition of Mr. Elchin Mammad and urges the Azerbaijani authorities to grant him access to adequate and comprehensive medical treatment, and to immediately and unconditionally release him, as his detention is arbitrary and is only putting his life at risk.
The Observatory further deplores that the case of Elchin Mammad is only emblematic of the serious and widespread abuses and intimidation of human rights activists in Azerbaijan, where a decades-long crackdown on human rights defenders has considerably curtailed civic space in the country.
Actions requested:
Please write to the authorities of Azerbaijan asking them to:
i. Guarantee, in all circumstances, the physical integrity and psychological well-being of Mr. Elchin Mammad and give him immediate and unconditional access to the medical attention he requires;
ii. Immediately and unconditionally release Mr. Elchin Mammad as well as all human rights defenders arbitrarily detained in the country, since their detention is arbitrary as it seems to be merely aimed at sanctioning their human rights activities;
iii. Put an end to all forms of harassment, including at the judicial level, against Mr. Elchin Mammad as well as against all human rights defenders in Azerbaijan and ensure in all circumstances that they are able to carry out their legitimate activities without any hindrance and fear of reprisals.
Addresses:
Please also write to the diplomatic missions or embassies of Azerbaijan in your respective country as well as to the EU diplomatic missions or embassies in Azerbaijan.
***
Geneva-Paris, June 16, 2021
Kindly inform us of any action undertaken quoting the code of this appeal in your reply.
The Observatory for the Protection of Human Rights Defenders (the Observatory) was created in 1997 by FIDH and the World Organisation Against Torture (OMCT). The objective of this programme is to intervene to prevent or remedy situations of repression against human rights defenders. FIDH and OMCT are both members of ProtectDefenders.eu, the European Union Human Rights Defenders Mechanism implemented by international civil society.
To contact the Observatory, call the emergency line: