Urgent Interventions
Charges framed against Odhikar's Secretary and Director Messrs. Adilur Rahman Khan and ASM Nasiruddin Elan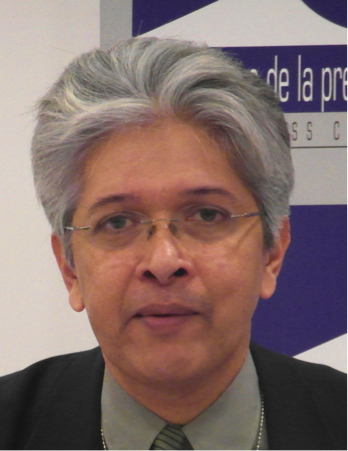 New information
BGD 001 / 0813 / OBS 074.4
Judicialharassment
Bangladesh
January10, 2014
The Observatory for the Protection of HumanRights Defenders, a joint programme of the World Organisation Against Torture(OMCT) and FIDH (the International Federation for Human Rights), has receivednew information and requests your urgent intervention in the followingsituation in Bangladesh.
New information:
The Observatory has been informed by reliablesources that charges were framed against Messrs. Adilur RahmanKhan and ASM Nasiruddin Elan,respectively Secretary and Director of the human rights non-governmental organisation Odhikar. Mr. RahmanKhan is also a member of OMCT General Assembly.
According tothe information received, on January 8, 2014, Messrs. Adilur Rahman Khan and ASM Nasiruddin Elan appeared before theCyber Crimes Tribunal. Messrs. Khan and Elan'slawyers requested Judge Shamsul Alam of the Cyber Crimes Tribunal for adischarge of the application under Section 265C of the Code of CriminalProcedure[1]. However, the judge rejected their plea and tookinto cognisance the Prosecution report/charge sheet submitted by the police onSeptember 11, 2013.
Charges were framed under Section 57 of theInformation and Communication Technology (ICT) Act 2006 (amended in 2009)against Messrs. Khan and Elan, in relation to a fact-finding reportissued by Odhikar on the killing of 61 people during an operation carried outby security forces against Hefazat-e Islam activists on May 5-6, 2013 in Dhaka.According to the charges, Odhikar wouldhave distorted the information of the police operation that took place on May5, 2013, where 11 people had died. The charges state that Odhikar would havecollected information of deaths around the country, including Dhaka, whichoccurred on May 5-6 and put that total on their website instead. The chargesfurther state that this would have caused extreme damage to the image of theState. Mr. Khan and Mr. Elan both pleaded not guilty and Mr. Khan furtherdeclared that the information in Odhikar report was completely accurate, addingthat Odhikar had made the list of deceased persons after fact-finding andthorough verification.
Moreover, Odhikar lawyers argued that theinvestigating officer was not able to give sufficient proof or evidence thatOdhikar's report was incorrect. They also argued that Odhikar was not anindividual, but a human rights organisation and that there was no proof thatthe report had been signed by any one individual. They also stated that severalorganisations, media and individuals had quoted various numbers of deceasedHefazat-e Islam supporters at that time. Yet, only Odhikar has been targeted bya case filed by the Government, which in addition has failed to set up anindependent Judicial Inquiry Commission to investigate the events of May 2013,as proposed by Odhikar.
Judge Shamsul Alam ordered that the trial against the twohuman rights defenders would start on January 22, 2014 with examination ofwitnesses.
TheObservatory is greatly concerned over the arbitrary prosecution against Mr. Khan and Mr. Elan, which only aims at sanctioningand preventing their activities as human rights defenders,therefore failing to comply with international human rights standards. Moreover, the Observatory is concerned about the delay in framingcharges against Messrs. Khan and Elan, and about thefact that it took a long time to appoint a Public Prosecutor to representthe Government, which amounts to further harassment against the twodefenders.
Backgroundinformation:
On August 10, 2013, Mr. Adilur Rahman Khan wasarrested and on August 11, he was placed on a five-day remand forinterrogation. On August 12, the High Courtof Bangladesh stayed the five-day remand order to interrogate Mr. Khan andasked police to send him to jail. The next day, Mr. Khan was transferredto Kashimpur Jail number 1.
On September4, 2013, the DetectiveBranch of Police announced they had filed a charge sheet against Mr. Khan and Mr. Nasiruddin Elan under Section 57 of the ICT Act and Sections 505 (c) and 505A of the Penal Code for allegedly "distorting images byusing photo shop and publishing a fabricated report, which enraged publicsentiment". The charges were brought in relation to Odhikar fact-finding reporton the police operation carried out against Hefazat-e Islam activists on May5-6, 2013 in Dhaka. If found guilty, the two human rights defenders face up to14 years in jail or a Tk 10,000,000 (about 93,660€) fine under the ICT Act and seven years' jail term under the Penal Code.
On September11, 2013, the Cyber Crimes Tribunal issuedan arrest warrant against Mr. Nasiruddin Elan.
On October 8, 2013, the High Court Division of theSupreme Court of Bangladesh granted a six-month interim bail to Mr. AdilurRahman Khan. On October 9, 2013, the Office of the Attorney General filed anapplication before the Appellate Division of the Supreme Court, requesting tostay the High Court's order granting bail to Mr. Khan. However, the ChamberJudge decided on the same day to uphold the High Court Division's decision. TheObservatory recalls that the bailpetition filed by Mr. Khan's lawyer was earlier rejected three timesin the same case. On October 11, 2013, at 10.30 am, Mr. Khan was finallyreleased on bail from Kashimpur Jail number 1.
On November 6, 2013, Mr. Nasiruddin Elan and hislawyers appeared before the Cyber Crimes Tribunal and appealed for bail in theabove-mentioned case. However, Judge Shamsul Alam rejected the plea for bailand ordered that Mr. Elan be arrested and taken to Dhaka Central Jail.
On November 24, 2013, the High Court Division of the Supreme Court ofBangladesh granted a six-months ad interim bail to Mr. Elan, who was finally released from jail on December 1, 2013.
Action requested:
Please write to the authorities in Bangladesh, urging them to:
i. Guarantee, in all circumstances, the physical and psychologicalintegrity of Messrs. Adilur Rahman Khan and Nasiruddin Elan, of all Odhikarmembers as well as of all human rights defenders inBangladesh;
ii. Put an end to any kind of harassment - including atthe judicial level - against Messrs. AdilurRahman Khan and Nasiruddin Elan, allmembers of Odhikar as well as all human rights defenders in Bangladesh;
iii. Conform with the provisions of the UN Declaration on Human RightsDefenders, adopted by the General Assembly of the United Nations on December 9,1998, especially:
- its Article 1, which states that "everyone has the right, individuallyand in association with others, to promote and to strive for the protection andrealisation of human rights and fundamental freedoms at the national andinternational levels", as well as
- its Article 12.2, which provides that the State shall "take allnecessary measures to ensure the protection by the competent authorities ofeveryone, individually and in association with others, against any violence,threats, retaliation, de facto or de jure adverse discrimination, pressure orany other arbitrary action as a consequence of his or her legitimate exerciseof his or her rights";
iv. Ensure in all circumstances respect for human rights andfundamental freedoms in accordance with international human rights standardsand international instruments ratified by Bangladesh.
Addresses:
· Ms. Sheikh Hasina, Prime Minister, Officeof the Prime Minister, Gona Bhaban, Old Sangsad Bhaban, Tejgaon, Dhaka,Bangladesh. Fax: +880 28113243, Email: pm@pmo.gov.bd
· Mr. Muhiuddin Khan Alamgir, Minister forHome Affairs, Ministry of Home Affairs, Bangladesh Secretariat Building 4,Dhaka, Bangladesh, Email: mkalamgir@yahoo.com; minister@mha.gov.bd;
· Barrister Shafique Ahmed, Minister forLaw, Justice and Parliamentary Affairs, Ministry of Law, Justice andParliamentary Affairs, Bangladesh Secretariat, Dhaka, Bangladesh, Email: info@minlaw.gov.bd
· Mr. Hasanul Haq Inu,Honourable Minister, Ministry of Information, Building # 4 (8th floor),Bangladesh Secretariat, Dhaka-1000, Bangladesh. E-mail: minister@moi.gov.bd
· Mr. MahbubeyAlam, Attorney General for Bangladesh, Attorney General's Office, Supreme CourtPremises, Dhaka, Bangladesh, Email: adv_mahbubey@yahoo.com
· H.E. Mr. Abdul Hannan, Ambassador,Permanent Mission of the People's Republic of Bangladesh to the United Nationsin Geneva, 65 rue de Lausanne, 1202 Geneva, Switzerland, Fax: +41 22 738 46 16,E-mail: mission.bangladesh@ties.itu.int
· Embassy of the People's Republic ofBangladesh in Brussels, 29-31 rue J. Jordaens, 1000 Brussels, Belgium, Fax: +322 646 59 98; Email: bdootbrussels@skynet.be
Please also write to the diplomatic missions orembassies of Bangladesh in your respective country as well as to the EU diplomatic missions or embassies inBangladesh.
***
Geneva-Paris, January 10, 2014
Kindly inform us of any action undertaken quoting the code of this appealin your reply.
The Observatory, an OMCT and FIDH venture, is dedicated to theprotection of Human Rights Defenders and aims to offer them concrete support intheir time of need.
To contact the Observatory, call the emergency line:
E-mail:

Appeals@fidh-omct.org

Tel and faxOMCT + 41 (0) 22 809 49 39 / + 41 22 809 49 29

Tel and faxFIDH + 33 (0) 1 43 55 25 18 / +33 1 43 55 18 80
[1] Section265C of the Code of Criminal Procedure 1898 reads that "If, upon considerationof the record of the case and the documents submitted therewith and afterhearing the submissions of the accused and the prosecution in this behalf, theCourt considers that there is no sufficient grounds for proceeding against theaccused, it shall discharge the accused and record reasons for doing so".
Tags
Attachments
Related resources