Urgent Interventions
Civil society organizations call for all baseless charges against journalists to be dropped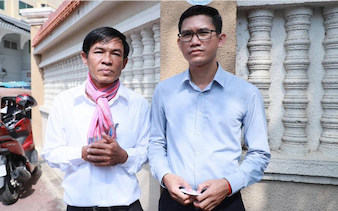 Uon Chhin and Yeang Sothearin outside the courthouse in Phnom Penh, October 3, 2019. Photo credit: PR
PhnomPenh, 22 December 2019 - We, the undersigned media institutions and local andinternational civil society organizations call for charges against two former Radio Free Asia (RFA) journalists, Mr. UonChhin and Mr. Yeang Sothearin (known as Yeang Sochea Meta), to bedropped. We also call on the governmentto take immediate action to cease the harassment, arbitrary detention, threatand intimidation of, as well as discrimination against, the independent media.
The two former RFA journalists,Uon Chhin and Yeang Sothearin, were charged by the Phnom Penh Municipal Courtwith supplying a foreign state with information prejudicial to nationaldefence, under Article 445 of Cambodia's Criminal Code and with the allegedproduction of pornography under Article 39 of the Law on the Suppression ofHuman Trafficking and Sexual Exploitation. The pair were arrested on 14November 2017 and held in pre-trial detention for nine months. They werereleased on bail and placed under judicial supervision on 21 August 2018.
On 3 October 2019, the Court announcedits decision to continue its investigation, despite the fact that there is alack of credible evidence against the pair required to hold them criminallyliable as per the burden of proof standards enshrined in Article 38 of theConstitution of the Kingdom of Cambodia. Throughout the case of Uon Chhin andYeang Sothearin, the pair's fair trial rights have not been upheld in line withnational and international law.
We hope that the Appeal Court'shearing on 23 December 2019, on the charges of production of pornography, aswell as the hearing on 20 January 2020 on the charges of supplying a foreignstate with information prejudicial to national defence, will provide justicefor the pair and the baseless charges will be dropped. It should be noted thataccording to the summons the facts of the case are going to be heard for thefirst time in the Appeal Court, constituting a significant and concerningprocedural irregularity. The case against Uon Chhin and Yeang Sothearin is oneof many in which criminal charges have been used to silence independent andcritical voices.
We also call for all chargesagainst Mr. Aun Pheap, and Mr. Peter Zsombor, former Cambodia Daily journalists, to bedropped. On 28 August 2017, after conducting interviews with villagers regardingthe commune council elections in Pate Commune, O'Yadav District, RatanakiriProvince, both were charged with incitement to commit a felony under Articles494 and 495 of the Cambodian Criminal Code, and summoned to appear at a trial hearingon 25 December 2019. The interviews were conducted in their capacity asjournalists for the Cambodia Daily,which has since been forced to close due to a tax requirement. The prosecutionsserve to further threaten and intimidate other independent journalists.
On 19 November 2019 the MondulkiriProvincial Court of First Instance summonsed Mr. Sath Chanboth, ajournalist for Rasmei Kampuchea and Apsara TV, to appear in court on 2 December2019, where he was questioned under charges of public defamation and incitementto commit a felony. The summons follows a lawsuit filed by Lieutenant ColonelSophat Serivuthy, a soldier commander in Mondulkiri. Wecall for the judicial harassment of Sath Chanboth to be ceased.
In addition to the above cases, weexpress our concern over the prosecution of Mr. Rath Rott Mony, atranslator for Russia Today, andformer trade union leader, whose case further threatens the free media. He was accused of incitement to discriminate,and later sentenced to two years imprisonment and ordered to pay 70 millionriels ($17,200) in compensation to plaintiffs for his role in supportingforeign journalists to produce a documentary on sex trafficking in Cambodia.His sentence was upheld in November 2019 by the Court of Appeal at a hearingwhere none of the plaintiffs or concerned parties were present, undermining thelegitimacy of proceedings.
The harassment of journalists alsotakes other forms. A number of independent journalists have been denied theidentification cards necessary to conduct their work. Additionally, some journalists report harassment from their employers forattempting to respect the principle of independence of the media.
We notice that a number ofpositive steps have been taken by the Royal Government of Cambodia (RGC)recently such as the grant of licence to the Voice of America's bureau in Cambodia, allowing it to buy airtimefrom two local radio stations to broadcast its daily news programs, a meetingbetween Information Minister and RFA's representative, as well as the decisionto provide a licence to The CambodianJournalists Alliance (CamboJA) on 09 September 2019, an independentjournalists network. Despite these steps, journalists still face numerousbarriers to conducting their work professionally and exercising their right tofreedom of expression.
May Titthara, Executive Directorof CamboJA, states that "to restore abetter space for media, complaints against journalists and intimidationsagainst journalists must be immediately ceased. The prosecution of YeangSothearin, Uon Chhin, Aun Pheap and recent criminal complaints againstjournalists must be dropped. Radiolicenses which have been revoked should be renewed."
Chak Sopheap,Executive Director of Cambodian Center for Human Rights (CCHR), adds: "Cases such as these form a pattern of arbitrary and retaliatoryprosecutions of critical voices, including those of human rights defenders,journalists, union leaders, community representatives and the politicalopposition. We emphasise that journalism is not a crime and should not betreated as such. Respecting the right to freedom of expression and ensuring aspace in which journalists can conduct their work freely and safely withoutfear of reprisal are important steps toward building a strong democracy and ruleof law."
We, the undersigned mediainstitutions and local and international civil society organizations urge theRGC to accept our above requests and take concrete actions to ensure that theright to freedom of expression is respected and to create an environment inwhich independent media and journalists can perform their important rolefreely.
- END -
This joint statement is endorsed by:
1. Cambodian Journalists Alliance (CamboJA)
2. Cambodian Center for Human Rights (CCHR)
3. Cambodian Center for Independent Media (CCIM)
4. Cambodian Food and Service Workers Federation (CFSWF)
5. Cambodian Human Rights and Development Association(ADHOC)
6. Minority Rights Organization (MIRO)
7. Ponlok Khmer (PKH)
8. Youth Resource Development Program (YRDP)
9. Affiliated Network for Social Accountability (ANSA)Cambodia
10. Community Legal Education Center (CLEC)
11. Khmer Kampuchea Krom for Human Rights and DevelopmentAssociation (KKKHRDA)
12. Independent Democracy of Informal Economy Association(IDEA)
13. Center for Alliance of Labor and Human Rights(CENTRAL)
14. Cambodian Tourism Workers Union Federation (CTWUF)
15. Equitable Cambodia (EC)
16. Gender and Development for Cambodia (GADC)
17. Sahmakum Teang Tnaut (STT)
18. Coalition of Cambodian Farmer Community (CCFC)
19. International Freedom of Expression Exchange (IFEX)
20. Article 19
21. FIDH, within the framework of the Observatory for theProtection of Human Rights Defenders
22. World Organisation Against Torture (OMCT), within theframework of the Observatory for the Protection of Human Rights Defenders
23. Building Community Voices (BCV)
24. Committee for Free and Fair Elections in Cambodia(COMFREL)
25. Cambodian League for the Promotion and Defense ofHuman Rights (LICADHO)
26. CIVICUS: World Alliance for Citizen Participation
27. Alliance for Conflict Transformation (ACT)
28. International Federation of Journalists (IFJ)
29. Reporters Without Borders (RSF)
30. International Commission ofJurists (ICJ)
31. Asian Forum for Human Rights and Development(FORUM-ASIA)
32. Cambodian Independent Teachers' Association (CITA)
33. Amnesty International (AI)
34. Cambodian Volunteers for Society (CVS)
35. Cambodian Independent Civil-Servants Association(CICA)
36. ASEAN Parliamentarians for Human Rights (APHR)
37. Cambodian Youth Network (CYN)