Urgent Interventions
Four years after the signing into law of the PBO Act, Kenyan civil society is still under attack

KEN
001 / 0117 / OBS 004
Harassment/
Smearcampaign
Kenya
January13, 2017
The Observatory for the Protection of Human RightsDefenders, a partnership of FIDH and the World Organisation Against Torture(OMCT), requests your urgent intervention in the following situation in Kenya.
Description of the situation:
The Observatory has been informed by reliable sourcesabout a new campaign of harassment from the NGO Coordination Board targetingKenyan civil society, four years after the signing into law of the PublicBenefit Organisation (PBO) Act 2013 on January 14, 2013.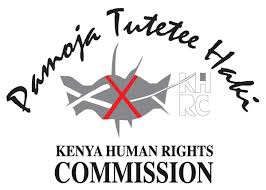 According to the information received, Kenya's NGO Coordination Boardhas been leading a smear campaign targeting the Kenya Human Rights Commission (KHRC),an organisation working to foster human rights, democratic values, humandignity and social justice within the country, accusing the organisationof financial and management impropriety, as part of a wider trend of harassmenttargeting civil society in the country.
On January 6, 2017 the NGO Coordination Board approached KHRC throughemail, threatening them to commence an inquiry into allegations of a number ofacts of mismanagement and offences allegedly perpetrated by KHRC, which wereincluded in an "internal memorandum" issued by the NGO Board on November 4,2016.
It has to be stressed that KHRC learnt about this memorandum from media reports,which widely distributed the document. The document addressed severalgovernment agencies with a number of recommendations against KHRC. It advisedthe Central Bank of Kenya to take steps to freeze KHRC's bank accounts. Itrequested the Directorate of Criminal Investigation to commence criminalinvestigations against KHRC and the Kenya Revenue Authority to commencemeasures to recover taxes that KHRC purportedly owes the government. Thedocument contained further recommendations for the Institute of CertifiedPublic Accountants, the authority that regulates the public accountancyprofession, to commence investigations against the two audit firms working forKHRC, PWC and PKF[1].
TheObservatory recalls that is not the first time that the NGO Board is publiclydiscrediting KHRC and other human rights organisations in Kenya[2].On October 29, 2015, the NGO Coordination Board announced that it would cancelthe registration of 957 NGOs, among which KHRC, because the concernedorganisations had failed to account for funds and were supporting terrorism.Nonetheless, the Board declined to meet or to reply to correspondence fromKHRC. In the end, the KHRC was compelled to commence legal action against theNGO Coordination Board. The High Court found that the failure by the NGOCoordination Board to give KHRC a hearing before arriving at a decision tocancel its registration was a violation of its constitutional rights and thatthis failure was compounded when the NGO board failed to furnish writtenreasons to KHRC.
TheObservatory expresses its concern over the above-mentioned facts and urgesauthorities in Kenya to ensure that KHRC and its staff members can carry outtheir legitimate and peaceful human rights activities without any hindrance.
Furthermoreon January 6, 2017 the Interior Principal Secretary Karanja Kibicho wrote toall the 47 county commissioners directing them to shut down NGOs that are notproperly licensed or are implementing projects that they have not beenregistered to undertake. The directive also requires all foreign employeesworking for NGOs in the country to produce on demand a valid work permit issuedby the Directorate of Immigration Services. They must also have arecommendation letter from the NGO Coordination Board.
TheObservatory would like to recall that this happens under the sameadministration that has been undermining, for four years since its signing intolaw on January 14, 2013, the commencement of the Public Benefit Organisation(PBO) Act 2013, a law seeking to provide an enabling environment for NGOs.Despite the High Court ruling for its immediate overdue commencement on October31, 2016, no further step has been undertaken so far[3].Instead, as of today the NGO Coordination Act 1990 is still regulating thespace for civil society with broad and vague provisions leaving room forarbitrariness and abuses against NGOs[4].

The Observatory considers extremely worrisome this lack of political will tocreate a favourable environment for civil society to work without hindrances inthe defence of human rights and strongly condemns this new attack against theKenyan civil society.

Finally, the Observatory would like to reiterate the importance of guaranteeingthe constitutional rights to freedom of association, assembly and expression,particularly in view of the upcoming general elections, in order to prevent thebrutal experiences of excessive use of violence by the police that Kenya hasfaced around the past two general elections[5].
Actions requested:
Please write to the authorities of Kenya urging themto:
i. Put an end to all forms ofharassment and smearing campaigns against human rights defenders in Kenya asthey only aim at sanctioning their legitimate human rights activities;
ii. Guarantee under all circumstancesthe physical and psychological integrity of all human rights defenders in thecountry:
iii. Followthe order of the High Court of Kenya by effectively implementing the PBO Actwithout further delay;
iv. Conform with the provisions of the UN Declaration on Human RightsDefenders, adopted by the General Assembly of the United Nations on December 9,1998, in particular its Articles 1 and 12.2; and
v. Ensure in allcircumstances, respect for human rights and fundamental freedoms in accordancewith international human rights standards and international instrumentsratified by Kenya.
Addresses:
· Hon. Uhuru Kenyatta,President of the Republic of Kenya, Fax: +254-020-2436, Email:president@statehousekenya.go.ke
· Hon. William Ruto,Deputy-President of the Republic of Kenya Email: dp@deputypresident.go.ke
· Hon. Joseph Nkaissery,Interior & Coordination Ministry
Email: ps.interior@kenya.go.ke

· Mr. Joseph Boinnet,Inspector General of Police, Email: nps@nationalpolice.go.ke
· Macharia Njeru,Chairperson, Independent Policing Oversight Authority, Email: macharia.njeru@ipoa.go.ke
· Otiende Amollo,Chairperson, Commission on
Administrative Justice,Email:otiendeamollo@yahoo.com; otiendeamollo@ombudsman.go.ke
· Commissioner KagwiriaMbogori, Chairperson, Kenya National Commission on Human Rights (KNCHR), Fax:+254-020- 2716160 E-mail haki@knchr.org
· H.E. Mr. Stephen NdunguKarau, Permanent Mission of Kenya to the United Nations in Geneva, Switzerland,Fax: +41 22 731 29 05, E-mail: mission.kenya@ties.itu.int
· H.E. Johnson Weru,Embassy of Kenya in Brussels, Belgium, Fax: + 32 2 340 10 50 / + 32 2 340 1068. Email: kenbrussels@hotmail.com

Please also write to the diplomatic representations ofKenya in your respective countries.
***
Paris-Geneva,January 13, 2017
Kindlyinform us of any action undertaken quoting the code of this appeal in your reply.
TheObservatory for the Protection of Human Rights Defenders (the Observatory) wascreated in 1997 by FIDH and OMCT. The objective of this programme is to preventor remedy situations of repression against human rights defenders. FIDH andOMCT are both members of ProtectDefenders.eu, the European Union Human RightsDefenders Mechanism implemented by international civil society.
Tocontact the Observatory, call the emergency line:
· E-mail: Appeals@fidh-omct.org
· Tel and fax FIDH: + 33(0) 1 43 55 25 18 / +33 1 43 55 18 80
· Tel and fax OMCT: + 41(0) 22 809 49 39 / + 41 22 809 49 29

[1] PWC is KHRC current auditor and PKF is KHRC previous auditor. The NGOCoordination Board is accusing both firms of helping KHRC in covering financialmismanagement.
[2] It is the not the first time that the NGO Coordinational Boardarbitrarily put hindrances to the freedom of association of NGOs in Kenya. Seethe Observatory Urgent Appeal KEN 004 / 1216 / OBS 110 issued on December 20,2016.
[3] See the Observatory Press Release issued on November 4, 2016.
[4] For example, the NGO Coordination Board can refuse registration of anNGO applicant if its proposed activities or procedures are not "in the nationalinterest", and is not legally required to furnish the applicant with anexplanation for the refusal of registration. Moreover, wide discretion is givento the NGO Board and the Minister, including regarding the certificate ofregistration, and the timeframe within which the NGO Coordination Board mustact on NGO registration applications.
[5] Seethe Observatory end-of-mission Press Release issued on October 28, 2016.