News Releases
Kazakhstan: The police tortures protesters without consequences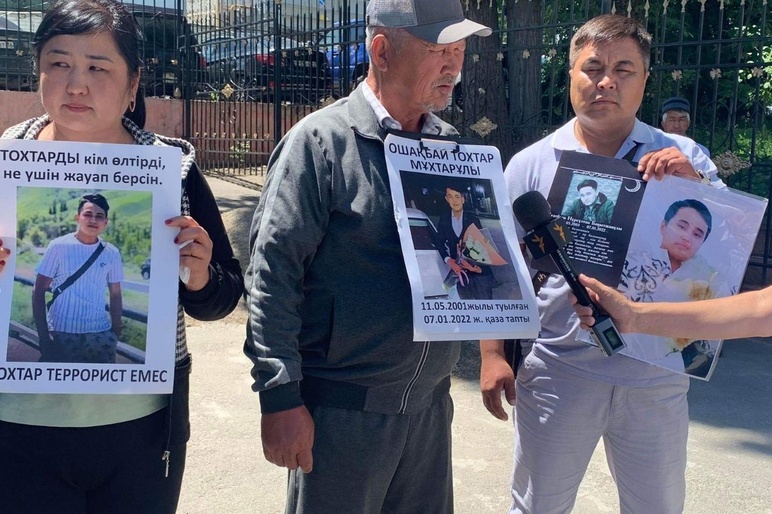 Protest of relatives of victims of torture © Kazakhstan International Bureau for human rights and rule of law
Geneva – Brussels, 2 February 2023
One year after the bloody crackdown on protesters in Kazakhstan in January 2022, impunity for perpetrators of torture and ill-treatment prevails. In their new report, the World Organisation Against Torture (OMCT) and its partners reveal some unaddressed torture cases and ask for justice for victims and their families.
Civilians, including children and persons with disabilities, have consistently faced torture in detention centres, in police stations, and on the streets following peaceful protests in Kazakhstan. The OMCT and its partners have documented cases of severe beatings, burning with hot irons, electric shocks, being doused with boiling or ice-cold water, and other cruel and inhumane treatment, such as sexual violence, and threats of rape.
This report is published one year after at least 238 people were killed (according to official figures), following peaceful protests for political change. The authorities had opened fire on protesters and detained thousands of people.
One year later, Kazakhstan has failed to conduct impartial and effective investigations into allegations of torture and ill-treatment by officials. Most attempts at inquiries have prematurely ended, when the authorities claimed that they had found no evidence of a crime.
This is not the first time that protesters are violently repressed and tortured in the Central Asian country. This pattern of violence remains to be addressed by the authorities. 2023 marks the 25th anniversary of Kazakhstan's ratification of the UN Convention against Torture, we hope it will also be a turn in the country's long history of impunity for perpetrators of torture.
Read the report in English and Russian
The World Organisation Against Torture (OMCT) is the largest global NGO group actively standing up to torture and protecting human rights defenders worldwide. It has more than 200 members in 90 countries. Its international Secretariat is based in Geneva, Switzerland.
For more information, please contact:
Claire-Marie Germain, Digital Communications Manager, OMCT
cmg@omct.org
Maryna Zastavna, Communications and Advocacy Officer, IPHR
maryna.zastavna@iphronline.org

Tags
Attachments
Related resources