Libya: The victims of the flood and their families need urgent protection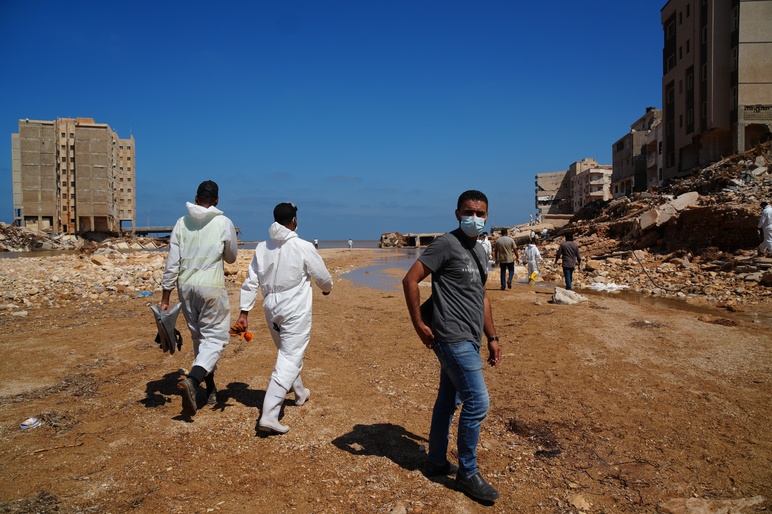 Numerous problems have arisen since the dramatic floods, due to poor management of the events by the authorities © Shutterstock
The dramatic collapse of the Derna dams in Libya on 10 and 11 September left more than 3,000 people dead, not counting those missing, and more than 30,000 displaced. In this briefing paper, the Libyan Anti-Torture Network (LAN) explores the many challenges that emerged following the event due to the authorities mishandling the situation. The network calls for immediate action from the Libyan authorities and the international community.
Ineffective response of the Libyan authorities
The Libyan government's response to the collapse of the two dams was largely inadequate. The lack of effective governance also delayed the delivery of crucial humanitarian aid by local and international NGOs. Political divisions prevented the collection of data due to the absence of centralised systems before and during the disaster, hampering efforts to locate missing people and provide assistance.
Lack of transparent communication
The fact that the government restricted access to the media and retained accurate and reliable information had a negative impact on the mental well-being of survivors and fuelled the spread of rumours. The Libyan authorities must ensure transparent, informative, and timely communication during and after the crises.
Arbitrary arrests and denial of freedom of expression
Freedom of expression has been restricted in Derna, with confirmed cases of interrogation and arrest of demonstrators calling for an international investigation into the collapse of the dams. Persecution of civilians must stop, and peaceful expression and demonstrations be allowed.
The pervasive influence of corruption
Corruption in Libya, evidenced in the long history of systematic discrimination against the people of Derna, has led to the deliberate neglect and failure of the State to invest in vital infrastructure, including the dams. Investigations into all layers of State corruption must be transparent and impartial.
An ineffective judicial system
The Libyan government must commit to transparency and thorough investigations, particularly given the political divisions and shortcomings of the local judiciary. Independent international mechanisms are essential to ensure accountability.
Neglect of migrants and foreign workers
The Libyan authorities have shown little concern for non-Libyan victims, raising concerns about the treatment of migrants and expatriate workers. The State must provide the necessary support and communicate with the families of victims.
Cover-up of information on deaths in prisons
Reports on the victims of the hurricane in Garnada prison must be verified, and robust information must be publically disclosed.
In view of these challenges, the Libyan Anti-Torture Network calls for rapid cooperation with international aid missions, increased efforts on finding missing persons, the establishment of transparent channels of communication, safeguards to freedom of expression, impartial investigations, support to migrants, and inspections of detentions facilities.