Urgent Interventions
Imminent deportation of Sister Patricia Fox
​
New information
PHL 003 / 0518 / OBS 056.1
Obstacles to freedoms ofmovement
and expression
Philippines
July 20, 2018
The Observatory for theProtection of Human Rights Defenders, a partnership of the World OrganisationAgainst Torture (OMCT) and FIDH, has received new information and requests yoururgent intervention in the following situation in the Philippines.
New information: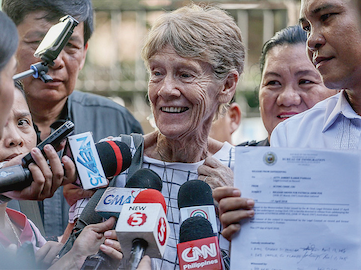 Basilio H. Sepe/EFE/MaxPPP

TheObservatory has been informed by reliable sources about the imminentdeportation of Sister PatriciaFox, an Australian nun who has lived in thePhilippines for almost 30 years, and is known as an advocate for agriculturalworkers, indigenous peoples, urban poor, and peasants' rights[1].
According to the informationreceived, on July 19, 2018, Sister Patricia Fox and her legal team received the Bureauof Immigration (BI)'s order for her deportation. The BI 10-page resolution alsosaid that her name was included in theBI blacklist, which will bar her from returning to the Philippines. Sister Foxwill appeal against the order.
The BI ruled that Sister Fox violated the conditions of hermissionary visa because she joined activites deemed to be political, includingan international fact-finding mission in Mindanao, which aimed to documenthuman rights violations done against farmers and peasant communities. LastApril 2018, the BI investigated and arbitrarily arrested Sister Fox on thebasis of an order released during the Aquino administration, which prohibitedforeign nationals from participating in activities deemed political. The BI's July19 order came a month after the Department of Justice nullified a previousorder to revoke Sister Fox's missionary visa (see background information).
In its resolution, the BI noted that Sister Fox wasgranted a missionary visa on July 21, 2016, valid until September 5, 2018,"with a limitation that she will render her missionary work in BarangayAmihan, Quezon City". However, the BI accused Sister Fox of having engagedin political deemed activities outside of her community, "from north (Tarlac) to south (South Cotabato)of the Philippines". The BI also said that Sister Fox had violated thelimitations and conditions of her missionary visa, which allowed her to engagein missionary/religious work, not political activities, in the Philippines. Theorder further stated Sister Fox's presence in the country posed "a risk to publicinterest".
The Observatory stronglycondemns the deportation order against Sister Fox, which is an attempt by thePhilippine Government to prevent her from continuing her work as a human rightsdefender, and particularly aims at punishing her for her defence of the rightsof peasants, indigenous peoples, and the urban poor in the country.
The Observatory urges theGovernment of the Philippines to rescind the deportation order against Sister Foxand allow her to continueworking to support local communities in the country.
Background information
On April 16, 2018, at around 2:30 pm, six uniformed intelligence officers fromthe BI visited Sister Patricia Fox's missionary home in Project 3, QuezonCity, Metro Manila. The officers then"invited" her to the BI for a random check and verification of her immigration papersand status. The officers showed SisterFox anorder" but did not provide her with a copy of the document.
After arriving at the BI office in Manila at around4:00 pm, the officers provided a Miranda warning to Sister Fox and told her she was under arrest for "illegalpolitical activities". They also told her that she was an "undesirable alien",and that she would be detained overnight and deported the following day. Nodocuments indicating the charges were provided to her. She was released in theafternoon the following day and given 10 days to respond with a counter-affidavit.
On April 18, 2018, President Rodrigo Duterte announcedthat he had personally ordered Sister Fox be investigated for alleged"disorderly conduct". It is believed that Sister Fox's arrest was a result ofher participation in ralliesdemanding the release of political prisoners and urging Philippine authoritiesto respect human rights. On April 6-9,2018, she also visited detained farmersin Tagum City, Davao del Norte Province, and workers on strike as part of anInternational Fact-Finding and Solidarity Mission (IFFSM) conducted by humanrights and farmers' organizations in Mindanao. The purpose of the IFFSM was to investigate human rights violationsunder Martial Law.
On April 25, 2018, the BI issued an order based on Section 9 of the Philippine Immigration Act of 1940,forfeiting Sister Fox's missionary visa and downgrading it to a temporary visa,as a result of having "engaged in activities that are not allowed under theterms and conditions of her visa".
On May 23, 2018, the BI denied Sister Fox's motion forreconsideration on the order revoking her missionary visa. Sister Foxsubsequently appeled the decision before the Department of Justice (DOJ).
On June 18, 2018, in response to the petition for review of the BI's orders filed bySister Fox, the DOJ nullified the two BI's ordersforfeiting the missionary visa of Sister Fox, saying that the orders had beenissued without legal basis. The DOJ then returned the case to the BI to determinewhether the charge and the evidence against Sister Fox actually constitututedsufficient grounds for visa cancellation.
Pleasewrite to the authorities in the Philippines, urging them to:
i. Allow Sister Patricia Fox to stay in thePhilippines and continue to carry out her human rights activities;
ii. Guarantee, in all circumstances, the physical andpsychological integrity of all human rights defenders in the Philippines;
iii. Put an end to all forms of harassmentagainst Sister Patricia Fox, as well as all human rights defenders in thePhilippines, and ensure in all circumstances that they are able to carry outtheir legitimate activities without any hindrance and fear of reprisals;
iv. Conform with the provisions of the UN Declarationon Human Rights Defenders, adopted by the General Assembly of the UnitedNations on December 9, 1998, especially its Articles 1 and 12.2;
v. Ensure in all circumstances respect for humanrights and fundamental freedoms in accordance with international human rightsstandards and international instruments ratified by the Philippines.
Addresses:
· H.E. Rodrigo Duterte,President of the Republic of the Philippines, Fax: (+632) 742-1641 / 929-3968,E-mail: op@president.gov.ph or send message throughhttp://president.gov.ph/contact-us/
· Mr. Alan Peter Cayetano,Secretary, Department of Foreign Affairs of the Philippines, Email: osec@dfa.gov.ph, Twitter: @alanpcayetano
· Hon. Menardo Guevarra,Secretary, Department of Justice of the Philippines, Fax: (+632) 521-1614,Email: communications@doj.gov.ph
· Hon. Jose Luis Martin Gascon,Chairperson, Commission on Human Rights of the Philippines, Fax: (+632) 9290102, Email: chairgascon.chr@gmail.com
· Mr. Jaime Morente, Commissioner, Bureau of Immigration,Philippines, Fax: (+632) 309-7752,mail: binoc_immigration@hotmail.com, xinfo@immigration.gov.ph,immigPH@gmail.com, Twitter:@immigrationPH
· H.E. Mr. Evan P. Garcia,Ambassador, Permanent Mission of the Philippines to the United Nations Officein Geneva, Switzerland, Fax: +41 22 716 19 32 Email: mission@genevapm.ph
· Embassy of the Philippines inBrussels, Belgium, Fax: (+32) 02 345 64 25, E-mail: brusselspe@gmail.com
Pleasealso write to the diplomatic mission or embassy of the Philippines located inyour country.
***
Geneva-Paris, July 20, 2018
Kindly inform us of any actionundertaken quoting the code of this appeal in your reply.
The Observatory for the Protection of Human RightsDefenders (the Observatory) was created in 1997 by the World OrganisationAgainst Torture (OMCT) and FIDH. The objective of this programme is to preventor remedy situations of repression against human rights defenders. OMCT and FIDHare both members of ProtectDefenders.eu, the European Union Human Rights Defenders Mechanismimplemented by international civil society.

[1] Sister Patrica, 71, is an Australian citizen who has held a missionaryvisa for the Philippines since the 1990s and has been conducting communityservice as part of her missionary work in the country. An advocate of genuineagrarian reform and human rights, Sr. Patricia has joined the activities of theUnyon ng mga Manggagawa sa Agrikultura (UMA) and Pagkakaisa para sa Tunay naRepormang Agraryo (PATRIA), including recent international fact-finding andsolidarity missions in Mindanao that probed the impact of the declaration ofmartial law by the Duterte administration and its counterinsurgency programme,Oplan Kapayapaan, on poor peasants on the island. Sisterr Patricia is also a staunchadvocate of the rights of agricultural workers, including the farmworkers inHacienda Luisita; the rights of indigenous peoples; and the rights of the urbanpoor.