Urgent Interventions
Release on bail of Mr. Shahidul Alam
New informationBGD 002 / 0818 / OBS 102.1
Release on bail /Judicial harassment
Bangladesh
November 15, 2018 The Observatory for the Protection of Human Rights Defenders, a partnership of the World Organisation Against Torture (OMCT) and FIDH, has received new information and requests your urgent intervention in the following situation in
Bangladesh
.
New information: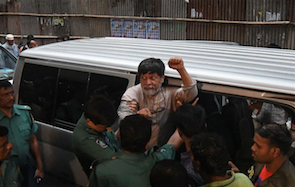 The Observatory has been informed by reliable sources about the release on bail of Mr.
Shahidul Alam
, human rights defender, prominent photographer, and founder of the
Drik
photo agencyand ofthe Pathshala South Asian Media Institute, after spending 102 days in jail on charges of violating Section 57 of the draconian Information and Communication Technology (ICT) Act.
According to the information received, on November 15, 2018, the High Court in Dhaka granted bail to Mr. Shahidul Alam. Attorney General Mahbubey Alam said that he would appeal the High Court's decision to grant Mr. Shahidul Alam bailbefore the Appellate Division of the Supreme Court. The Observatory welcomes the release on bail of Mr. Shahidul Alam, but
remains deeply concerned by the ongoing judicial harassment against him, which clearly aims at punishing him for his peaceful and legitimate human rights activities. The Observatory urges the authorities of Bangladesh to end all acts of harassment, including at the judicial level, against him and all human rights defenders in the country.
Background information:
On August 5, 2018 at around 10.30 pm, Mr. Shahidul Alam was forcibly taken from his house in Dhanmondi, Dhaka, by a group of men in plain clothes, who identified themselves as officers of the Detective Branch (DB) of police. Mr. Shahidul Alam's house was searched and all the CCTV cameras were destroyed. His whereabouts remained unknown until August 6, 2018, when Mr. Shahidul Alam was brought to the Dhaka court by Additional Chief Metropolitan Magistrate Asaduzzaman Noor, where he was interrogated regarding allegations that he gave false information to the media and for so-called "provocative comments". These accusations were related to Mr. Shahidul Alam's
Al Jazeera
interview and Facebook posts in which he criticized the acts of violence committed by members of the ruling party's youth wings against student activist during largely peaceful demonstrations for road safety in Dhaka in August 2018. Mr. Shahidul Alam also condemned the security forces' failure to protect the student activists from the violence. Mr. Shahidul Alam was accused of "spreading propaganda" and "false information" against the Government. On August 6, he was remanded to custody for seven days in a case filed under Section 57 of the ICT Act, which over the past years has been used to arrest and prosecute several journalists who have criticised the Government. If convicted, he could face a prison sentence of at least seven years
[1]
. During the August 6, 2018 hearing, Mr. Shahidul Alam reported he was tortured in custody, and was not able to walk without support. According to his own words, the police officers made him wash his bloodied clothes before making him wear them again. Mr. Alam subsequently filed a writ petition with the High Court seeking a medication examination. As per the High Court directive, a medical report was submitted before a trial court, but the court gave no further order. On August 12, 2018, a Dhaka court sent Mr. Shahidul Alam to jail, after police produced him before the court on completion of his seven-day interrogation. Since his arrest, Mr. Shahidul Alam had been denied bail at least five times.
Actions requested:
Please write to the authorities in Bangladesh, urging them to:
i. Guarantee, in all circumstances, the physical and psychological integrity of Mr. Shahidul Alam as well as of all human rights defenders in Bangladesh;
ii. Immediately release Mr. Shahidul Alam from jail;
iii. Guarantee Mr. Shahidul Alam's right to due process and fair trial, as protected under international law;
iv. Put an end to all acts of harassment, including at the judicial level, against Mr. Shahidul Alam, as well as of all human rights defenders in Bangladesh and ensure that they are able to carry out their activities without hindrance;
v. Carry out a transparent, impartial, immediate and thorough investigation into the above-mentioned allegations of ill-treatment in order to identify all those responsible, bring them before an independent tribunal, and sanction them as provided by the law;
vi. Conform in all circumstances to the provisions of the Declaration on Human Rights Defenders, adopted on December 9, 1998 by the United Nations General Assembly, in particular its Articles 1 and 12.2.;
vii. Ensure in all circumstances respect for human rights and fundamental freedoms in accordance with international human rights instruments ratified by Bangladesh.
Addresses:
- Ms. Sheikh Hasina, Prime Minister of Bangladesh. Fax: +880 2 8113243, Email:
pm@pmo.gov.bd
- Professor Dr. Gowher Rizvi, Adviser to the Prime Minister (International Affairs), Bangladesh. Fax: +880 2 9111312 Email:
advinternational@pmo.gov.bd
- Mr. Asaduzzaman Khan, State Minister for Home Affairs of Bangladesh. Fax: +880 2 9515541. Email:
stateminister@mha.gov.bd
- Mr. Anisul Huq, Minister for Law, Justice and Parliamentary Affairs of Bangladesh. Fax: +880 2 7168557. Email:
minoflaw@law.com
- Md. Shahriar Alam, State Minister for Foreign Affairs of Bangladesh. Fax: +880 2 9562188. Email:
fm@mofa.gov.bd
- Justice Syed Mahmud Hossain, Chief Justice, Supreme Court of Bangladesh, Fax: +880 2 956 5058 /+880 2 7161344, E-mail:
chief@bdcom.com
or
supremec@bdcom.com
- Mr. Mahbubey Alam, Attorney General for Bangladesh, Email:
adv_mahbubey@yahoo.com
- H.E. Mr. Abdul Hannan, Ambassador, Permanent Mission of the People'sRepublic of Bangladesh to the United Nations in Geneva, Switzerland, Fax: +41 22 738 46 16, E-mail:
mission.bangladesh@ties.itu.int
Embassy of the People's Republic of Bangladesh in Brussels, Belgium, Fax: +32 2 646 59 98; Email:
bdootbrussels@skynet.be
Please also write to the diplomatic missions or embassies of Bangladesh in your respective country as well as to the EU diplomatic missions or embassies in Bangladesh. ***Geneva-Paris, November 15, 2018 Kindly inform us of any action undertaken quoting the code of this appeal in your reply.
The Observatory for the Protection of Human Rights Defenders (the Observatory) was created in 1997 by the World Organisation Against Torture (OMCT) and FIDH. The objective of this programme is to intervene to prevent or remedy situations of repression against human rights defenders. OMCT and FIDH are both members of
ProtectDefenders.eu
, the European Union Human Rights Defenders Mechanism implemented by international civil society.
To contact the Observatory, call the emergency line:· E-mail:
Appeals@fidh-omct.org
· Tel and fax OMCT + 41 22 809 49 39 / + 41 22 809 49 29· Tel and fax FIDH + 33 1 43 55 25 18 / +33 1 43 55 18 80
[1]
Under Section 57 of the ICT Act "(1) If any person deliberately publishes or transmits or causes to be published or transmitted in the website or in electronic form any material which is fake and obscene or its effect is such as to tend to deprave and corrupt persons who are likely, having regard to all relevant circumstances, to read, see or hear the matter contained or embodied in it, or causes to deteriorate or creates possibility to deteriorate law and order, prejudice the image of the State or person or causes to hurt or may hurt religious belief or instigate against any person or organization, then this activity of his will be regarded as an offence. (2) Whoever commits offence under sub-section (1) of this section he shall be punishable for a term of minimum of seven years' imprisonment and a maximum of 14 years or a fine of Taka 10 million or both."