Statements
Libya: Authorities must protect migrants from human rights abuses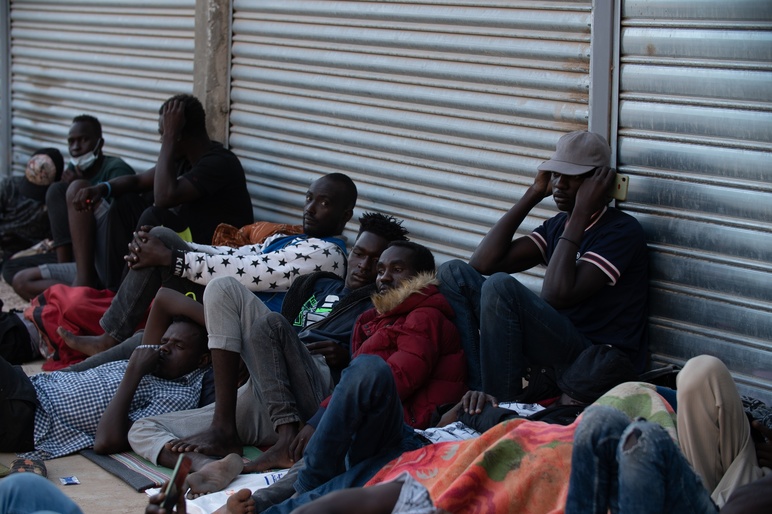 Migrant women and men wait by the United Nations High Commissioner for Refugees (UNHCR) headquarters on in Tripoli, Libya © Shutterstock
The situation of migrants in Libya has become a continuous cycle of suffering and trauma. The last report of the UN Independent Fact-Finding Mission on Libya, recently published and presented at the 52nd session of the UN Human Rights Council clearly states that the abuses committed in Libya against Libyans and migrants amount to crimes against humanity. The mission documented numerous cases of arbitrary detention, murder, torture, rape, enslavement, sexual slavery and enforced disappearance, confirming that these practices are widespread in Libya.
Migrants, asylum seekers, refugees and stateless persons remain extremely vulnerable in Libya. By mid-February 2023, 400 migrants had been intercepted and returned to detention centres in Libya, according to the International Migration Organization (IOM), which estimates that 800 migrants died at sea in 2022.
Under international law, Libya is bound to provide minimum safety standards for migrants. Yet, Libya remains a lawless country where migrants, foreign workers, refugees, and asylum seekers feel abandoned and threatened.
In order for the Libyan authorities to successfully tackle the issue of migration, legal reforms must be urgently implemented, and migrant detention facilities must be opened for monitoring.
The aim of this paper is to outline a series of recommendations to support the Libyan authorities' legal, institutional and security reforms, in line with international standards. The document also calls on Libyan authorities to facilitate the establishment of effective independent monitoring systems for the prevention of violations in detention centres.
To find out more on our recommendations, read our policy brief here