Urgent Interventions
Killing of Mr. Bernardino Patigas and death threats against Karapatan members Ms. Cristina Palabay and Ms. Clarizza Singson
​
PHL 001 / 0519 / OBS 040
Killing / Death threats
Philippines
May 10, 2019
The Observatory for the Protection ofHuman Rights Defenders, a partnership of the World Organisation Against Torture(OMCT) and FIDH, requests your urgent intervention in the following situationin the Philippines.
Brief description of thesituation: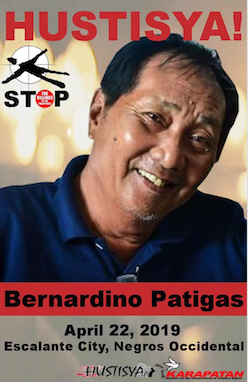 The Observatory has been informed by reliable sources about the killingof Mr. BernardinoPatigas[1], founder and Secretary General of the North Negros Alliance of HumanRights Advocates, a member organisation of the Negros chapter of the human rights non-governmental organisation (NGO) Karapatan- the Alliance for the Advancement of People's Rights.
According to the information received, at around 4.30pm on April 22,2019, Mr. Bernardino Patigas, aka 'Tatay Toto', was fatally shottwice by a gunman whiledriving his motorcycle along the highway of Barangay Washington, EscalanteCity, Negros Occidental Province. Mr. Patigas died on the spot.
Mr. Bernardino Patigas was awell-known human rights defender who called for land reform and denounced the militarisationof communities and ongoing human rights violations in Negros. As a result of his human rights work, he repeatedly received threats and was subjected to harassment. InApril 2018, his name and picture, together with that of human rights lawyer Mr.Benjamin Ramos, who wassubsequently murdered on November 6, 2018[2], and 60 otherindividuals and rights advocates, were included in a poster of allegedcommunist personalities.
On the same day, following reports of Mr. BernardinoPatigas' killing in the media and on social media, a death threat via textmessage from an unknown person was sent to Ms. Cristina Palabay, Kaparatan Secretary General, Ms. Clarizza Singson,Karapatan-Negros Occidental member, and various other community leaders inNegros, insinuating that the names included in the message were targets to bekilled within the year.
The Observatory condemns in the strongest terms the killing of Mr.Bernardino Patigas and the subsequent death threats against Ms. Cristina Palabay, Ms. Clarizza Singson, andother community leaders in Negros, and urges the authorities of the Philippinesto carry out an immediate, thorough, impartial, and transparent investigationinto the above-mentioned events, and to identify all those responsible, bringthem before an independent tribunal, and sanction them as provided by the law.
The Observatory further reiterates its utmost concern over ongoingkillings and attacks against human rights defenders in the Philippines, andcalls upon the authorities to adopt effective measures to ensure the protectionof human rights defenders in the country, as well as to ensure properinvestigations into such killings and attacks.
Actions requested:
Please write to the authorities of the Philippines asking them to:
i. Guarantee in all circumstances the physical integrity andpsychological well-being of Ms. Cristina Palabay, Ms.Clarizza Singson, and all members of Karapatan, aswell as all human rights defenders in the country;
ii. Carry out an immediate, thorough, impartial, and transparentinvestigation into the murders of Mr. Bernardino Patigas and Mr. Benjamin Ramos in order toidentify all those responsible, bring them before an independent tribunal, andsanction them as provided by the law;
iii. Put an end to all acts of harassment against all human rightsdefenders in the Philippines, and ensure that they are able to carryout their legitimate activities without any hindrance and fear of reprisals;
iv. Conform to the provisions of the UN Declaration on Human RightsDefenders, adopted by the General Assembly of the United Nations on December 9,1998, especially its Articles 1 and 12.2;
v. Ensure in all circumstances respect forhuman rights and fundamental freedoms in accordance with international humanrights standards and international instruments ratified by the Philippines.
Addresses:
· Mr. Rodrigo Duterte, President of the Republic of the Philippines, Fax:+632 742-1641 / 929-3968, Email: op@president.gov.ph or send a message through http://president.gov.ph/contact-us/;
· Mr. Teodoro Locsin Jr, Secretary, Department ofForeign Affairs of the Philippines, Email: osec@dfa.gov.ph;
· Hon. Menardo Guevarra, Secretary, Department ofJustice of the Philippines, Fax: (+632) 521-1614, Email: communications@doj.gov.ph;
· Hon. Jose Luis Martin Gascon, Chairperson, Commissionon Human Rights of the Philippines, Fax: +632 929 0102, Email: chairgascon.chr@gmail.com;
· Police General Oscar Albayalde, Chief, Philippine National Police,National Headquarters Building, Camp BGen Rafael Crame, Quezon City, 1111Philippines. Fax: +632 724 8749 Email: pnpo.adm1n@gmail.com;ocpnp@pnp.gov.ph; srocpnp@yahoo.com
· H.E. Mr. Evan P. Garcia, Ambassador, Permanent Missionof the Philippines to the United Nations Office in Geneva, Switzerland, Fax:+41 22 716 19 32 Email: mission@genevapm.ph;
· Embassy of the Philippines in Brussels, Belgium, Fax:+32 02 345 64 25, Email: brusselspe@gmail.com.
Please also write to the diplomatic missions orembassies of the Philippines in your respective country.
***
Geneva-Paris, May 10, 2019
Kindly inform us of any action undertakenquoting the code of this appeal in your reply.
The Observatory for the Protection of Human RightsDefenders (the Observatory) was created in 1997 by the World OrganisationAgainst Torture (OMCT) and FIDH. The objective of this programme is tointervene to prevent or remedy situations of repression against human rightsdefenders. OMCT and FIDH are both members of ProtectDefenders.eu, the European Union Human Rights DefendersMechanism implemented by international civil society.

[1] Mr.Patigas was a survivor of the Escalante massacre of 20 farmers and farmworkers,which occurred on September 20, 1985. He subsequently joined human rightsadvocacy especially in favour of the Sakadas of Negros as well as fact-findingmissions in the region. At the time of his killing, he was running forre-election as a Sangguniang Panglungsod (city council) member in EscalanteCity.
[2] SeeObservatory Urgent Appeal PHL 005 / 1118 / OBS 132,published on November 9, 2018.